Annual Fund for Law-Student Scholarships
Why We Give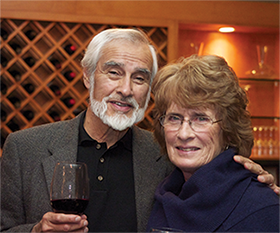 Leo and Robin Romero
Scholarships and loans have made a huge difference to Robin and to me. I attended law school because of such grants. Before Robin and I graduated from Oberlin in 1965, we learned about a full tuition scholarship designated for an Oberlin graduate who applied to Washington University School of Law. I had planned to study history, but law was another form of history, and the idea intrigued me. It is impossible to explain the effect of that generous gift which was renewed my second and third years. We continue to be thankful for it. Because we married right after college graduation and our first son was born during law school, it had a tremendous impact on our lives. We wish to continue this tradition--to help other students in this manner--and we have decided to do it through the UNM Fund for Law.
In the Spring of 2014, Leo and Robin Romero chose to make a generous lead gift to the Annual Fund for Law-Student Scholarships in the amount of $125,000.
Law School graduates, law firms and friends come together throughout the year to celebrate each other as leaders in giving.
Join us.
Participation matters. Gift size does not.