Peterson Zah Fellowship Fund
Support the new Peterson Zah Fellowship Fund
With your help, two UNM School of Law graduates will be selected to work within the DNA Legal Services to provide free civil legal services to low-income people who can't afford to hire an attorney.
The Peterson Zah Fellowship will enable these two UNM Law School graduates to:
receive a stipend to prepare for the NM State Bar and possibly for the Navajo Bar Exam
begin working for the DNA Peoples Legal Aid (upon passing the Bar exam)
have their salary paid from the President Peterson Zah Fund
have their benefits covered by the DNA Legal Aid
The Peterson Zah Fellowship is a true partnership between the UNM School of Law and the DNA Peoples Legal Aid.
About Peterson Zah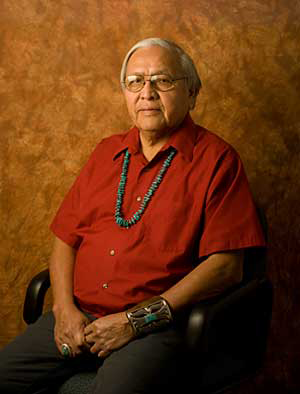 Peterson Zah was born on December 2, 1937 in Low Mountain, Arizona to Henry and Mae (Multine) Zah. Zah attended Phoenix Indian School until 1960 and then went to Arizona State University. He graduated in 1963 with a Bachelor's Degree in Education. He holds honorary Doctor of Law degrees from both Colorado College and the College of Santa Fe.
Between 1967 and 1981, Zah served as executive director of the nonprofit organization DNA (Dinebeuna Nahiilna Be Agaditiahe) People's Legal Service in Window Rock. During his decade of directing DNA, he succeeded in having several legal cases establishing Indian sovereignty reach the U.S. Supreme Court.
Zah was elected in 1972 to the first all-Navajo school board in Window Rock and assumed its presidency in 1973. He also began fundraising in 1987 for the Navajo Education and Scholarship Foundation, an organization that provided scholarships for many worthy Navajo students. In 1989, Zah founded Native American Consulting Services in order to obtain congressional assistance for constructing new schools on the reservation. He was director of the western regional office of the Save the Children Foundation from 1989 to 1990.
From 1983 to 1987, Zah served as chairman of the Navajo Tribal Council at Window Rock, governing the largest reservation in the United States. Zah focused much time and energy on reforming education. In 1990, Zah became the first elected president in the new Navajo Nation. He worked with his childhood friend, Hopi tribal leader Ivan Sidney, to attempt to work out the difficulties of U.S. government imposed relocation in the Navajo-Hopi land dispute.
Peterson Zah currently acts as Special Advisor to the President on American Indian Affairs for Arizona State University. Zah and his wife Rosalind Begay Zah have three children, Elaine, Eileen, and Keyonnie.
Source: Malinowski, Sharon, eds. "Notable Native Americans", New York: Gale Research Inc, 1995.
Further Reading on Peterson Zah
Mattheissen, Peter, "Four Corners," in Indian Country, New York, Penguin, 1984.
"Navajo Education," in Handbook of North American Indians; Southwest, Volume 10, edited by Alfonso Ortiz, Washington, D.C., Smithsonian Institution, 1983.
Tome, Marshall, "The Navajo Nation Today," in Handbook of North American Indians, Southwest, Volume 10, edited by Alfonso Ortiz, Washington, D.C., Smithsonian Institution, 1983.
Trimble, Stephen, "The Navajo," in The People, Santa Fe, New Mexico, School of American Research Press, 1993; 121-194.
"Proceedings of the First National Conference on Cancer in Native Americans," American Indian Culture and Research Journal, 16:3, 1992.
Trebay, Guy, "Bad Medicine: Illness as Metaphor in Navajoland," Village Voice, August 3, 1993; 39-43.
About DNA Legal Services
DNA is an acronym for the Navajo phrase Dinébe'iiná Náhiiłna be Agha'diit'ahii which means "attorneys who work for the economic revitalization of The People". DNA People's Legal Services is a 9 office, nonprofit law firm in the Southwestern United States that provides free civil legal services to low-income people who otherwise could not afford to hire an attorney. We provide legal assistance, advice and representation in U.S. and tribal courts, promotes tribal sovereignty, and offer community education programs that promote greater understanding of the law. Since 1967, DNA's services have helped people living in poverty use existing policies and laws to protect their property and assets, stay safe from physical, mental and financial abuse, avoid exploitation and safeguard their civil rights.