UNM Law Alumni in DC
A Special Alumni Relationship
The Washington, DC Metro Area boasts the largest group of School of Law alumni outside the state of New Mexico. Our DC area alumni are very connected and engaged with the Law School despite the geographic distance.
Semester in DC Program
Make a gift to support students in the DC Semester Program.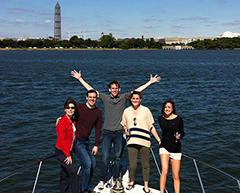 Alumni are critical to the success of the Law School's Semester in DC program, which just completed its second year. Students are paired with 2-3 mentors who meet with students and provide invaluable guidance. Alumni also invite students to various professional and social events and organize happy hours throughout the semester to give students more opportunities to interact with alumni. Mentors in 2013 included Jane Cavanaugh ('95), Ann Claassen ('89), Denise Coca ('96), Michael Connelly ('93), John Harte ('96), Jason Hauter ('02), Jessica Montoya ('96), Sumita Mukhoty ('88), Anne Noel Occhialino ('98), Rebecca Roose ('04) and Chandria Slaughter ('02).

UNM Law Professor Dave Sidhu, in the Washington area completing a fellowship with the US Supreme Court, taught the semester-long course in 2013. Several alumni lent their time and expertise to the program. Class speakers included former professor Norman Bay, Francisco "Paco" Perez ('08), Capt. David Iglesias ('84), Anne Noel Occhialino ('98), Michael Connolly ('93), Sumita Mukhoty ('88), and Denise Coca ('96). Jane Cavanaugh ('95) and Ann Claassen ('89) were also exceptionally dedicated to the program and its students. "It is clear to me that there is a truly wonderful and impressive community of UNM law graduates in the Washington, DC, area, who are eager to give back to the law school by way of helping our students that are in the Nation's Capital," says Sidhu. " The alums were instrumental in ensuring that this year's participating DC Program students felt welcome and supported. The law school has a significant presence in Washington, DC, and our mark on national policies and legal developments will only increase as this program continues to grow." Washington, D.C. area alumni are encouraged to connect with UNM School of Law students participating in the Washington, D.C. Semester Program, working, interning and externing in metro Washington, D.C. and to support Washington-area alumni working to create alumni opportunities and gatherings.
Annual Alumni & Friends Gathering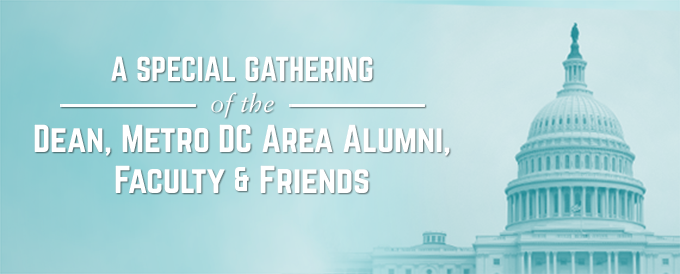 Each year the Law School hosts a gathering for alumni and friends in the Metro DC area. In 2013, the reception took place on November 12th in the Russell Senate Building. US Senator Tom Udall ('77) made it possible to hold the event at the Senate and visited with alumni, friends and faculty in between votes on the Senate floor. This gathering was an opportunity for alumni and friends to meet the Law School's new dean, David Herring, and to hear from Professor Emeritus Ted Occhialino and Professor Sidhu regarding the Law School and the Semester in DC program.
Recruiting Potential Students
Each year, alumni from the area participate in the Law School Admissions Council recruiting fair. Alumni answer questions and encourage prospective students to learn more about what makes a legal education at the UNM School of Law distinctive.
Alumni/Employers
Get involved! To let us know of internship and externship opportunities year-round where you work or have connections, or to contribute support for this programming, please contact Melissa Lobato, Director, Advancement Operations, Alumni & Annual Programs.
For more information regarding our alumni in the Metro DC Area, please send an email to alumni@law.unm.edu. Or visit their groups at   LinkedIn or  Facebook.