Participate in Our Recruiting Programs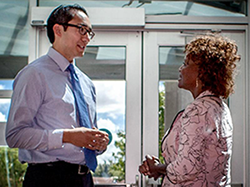 Each year, the Office of Career Services hosts both a Fall and Spring Recruiting Program.  Through these programs, employers can recruit law students in one of three simple ways:
On-Campus Interviews (OCI):  Career Services collects and forwards student application materials to you, coordinates student interview schedules, offers a convenient on-campus interview location, and provides complimentary lunch for participants.
Resume Collect:  If you cannot interview candidates on campus, our resume collect service provides a convenient way to receive application materials from interested candidates.  Career Services will collect and forward application materials to you, allowing you to select and interview candidates at your office at your convenience.
Contact Directly:  If you prefer to evaluate candidates on a rolling basis, the "contact directly" option instructs students to send their application materials directly to you via mail or e-mail.
Register now for our 2016 Spring Recruiting Program
Recruiting Programs are managed via the Law School's password protected Symplicity website. If you prefer to have direct access to Symplicity, you may register now.
In addition to our Recruiting Programs, registration on Symplicity will provide more immediate posting of opportunities with your office throughout the year as well as the ability to promote your office to our students and alumni through a personalized employer profile, and more.