About Albuquerque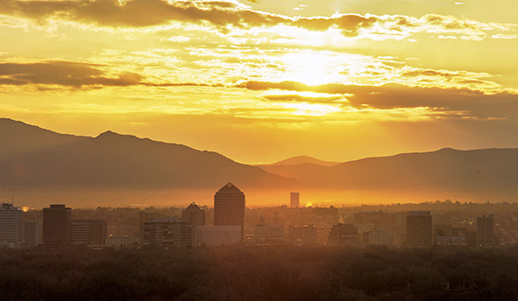 Albuquerque is the state's largest city, with a metropolitan population exceeding 700,000. Straddling the Rio Grande, the city stretches from high-desert plains to the Sandia Mountains, and is bordered on two sides by Isleta Pueblo and Sandia Pueblo. With a rich multi-cultural history, Albuquerque retains a strong connection to its Spanish colonial and Native American past, and is also home to a vibrant contemporary arts community.
At an altitude of 5,000 feet, the city enjoys a steady diet of sunshine and a moderate climate, and is home to the largest hot-air balloon rally in the world every October.
More About Albuquerque & New Mexico
New Mexico has more to offer than you can imagine. Visit NM True to get the most from your visit and enjoy the culinary, outdoor and cultural treasures New Mexico has to offer.
In addition, please visit Albuquerque Convention and Visitors Bureau to learn more about the culture and heritage of Albuquerque.
About the University of New Mexico School of Law
New Mexico's only law school, the University of New Mexico School of Law is ranked in the Top Ten Best Value Law Schools Nationwide by the National Jurist, is an Above the law Top 50 Law School and regularly receives a high Top Graduate Schools for Hispanics ranking from Hispanic Business Magazine. Students can earn a J.D. and dual degrees and certificates in the School's well-regarded Indian Law and Natural Resources & Environmental Law programs. The School's Clinical Law Program is consistently nationally recognized. Learn more here.