Not-for-Profit Art Gallery
Call For University of New Mexico Connected Artists
The University of New Mexico School of Law Not for Profit Art Gallery invites all artists connected to UNM to submit their New Mexico images for consideration for our 2018 exhibition. The UNM School of Law Not for Profit Art Gallery provides a space for artists affiliated with UNM as faculty, staff, students, alumni and immediate relatives of this group to display and sell their work. For the 2018 exhibition, the Art Committee is looking for approximately 30 images that showcase New Mexico on canvas or in print. The selected artists will become 2018 Artists in Residence and must provide art throughout the year.
Read More...
Eligibility:
This Exhibition is open to all artists who are UNM faculty, staff, students, alumni, or immediate relatives (spouses, domestic partners, children, siblings, and parents) of this group. Work in media depicting images of New Mexico will be considered. Selected work must be framed, gallery wrapped, and suitable for hanging. No sculptures, please. Potential artists are encouraged to visit the UNM School of Law forum to view the space. The forum is open weekdays 8:00 a.m. to 5:00 p.m. The UNM Law School Art Committee reserves the right of approval for all art that shows in its gallery.
Submission Guidelines:
Submit up to three (3) digital images to Tony Anderson at anderson@law.unm.edu by Monday, January 8, 2018, at noon.  Image files should be in .jpg format
Please include title, media, year, dimensions, and approximate price of your work.
In addition to the .jpg images, please tell us how you are connected to UNM.
You will be notified on or before Thursday, January 18, 2018, if your work has been selected.
If your work is selected, please send a brief artist statement (up to 100 words) in the body of the email to Anderson@law.unm.edu, and you must

physically deliver

the final framed work by Thursday, February 1, 2018, at noon, to the law school. We do not accept mailed work. You commit to occupy a selected space for the duration of the exhibition.  As your work sells, you must provide replacement art work within two months so that the sold work can be given to the purchaser. At the end of the show, you must

physically pick-up

your work.
Exhibit Place
University of New Mexico School of Law Forum
1117 Stanford NE
Albuquerque, NM 87106
Exhibition Dates
From Tuesday, February 20, 2018, to January 2019. Artist must commit to attend the reception on February 20, 2018, from 5:00 – 6:30 p.m. to discuss his or her work.
Commission Fee
The artist sets the price. The first $100 of the price is split 50/50 between the Artist and the Art Gallery. Any amount above $100 is split 75/25 to the Artist and Gallery respectively. The Gallery's share is considered a donation to support the work of the Gallery.
Contact Information
Professor Sherri Burr, Chair of the Art Committee, 277-5650, burr@law.unm.edu
Tony Anderson, 277-6204, Anderson@law.unm.edu.
---
Current Exhibit: 2017 Artist in Residence Program
The University of New Mexico Law School Not-for-Profit Art Gallery is launching the 2017 Artist in Residence Program with an opening reception on Tuesday, January 24 from 5:00 - 6:30 pm in the Forum at the UNM Law School, located at 1117 Stanford NE. Free parking is available in the law school parking lot after 4:00 p.m.
The Art Gallery's inaugural Artist in Residence Program features work from 11 artists:
Alumni
Norm Gagne, UNM Law School Class of 1974
Sarah Lough, UNM Law School Class of 2007
Faculty
Sherri Burr, Regents Professor, UNM School of Law
Steven K. Homer, Director of the Legal Analysis & Communication Program, UNM School of Law
Staff
Dan Noyes, former staff at UNM School of Law
Laura Paskus, reporter, KUNM
Students
Jennifer Brannen, School of Law, Class of 2019
Alexander Kinney, College of Fine Arts, Class

 of 2019
Relatives
Sculptress in Residence: Elana Schwartz
Meet the exhibiting artists and hear about their work at the opening reception, which will feature a shrimp buffet, wine selection and non-alcoholic beverages.
Live entertainment will be provided by "Keep Your Day Job," a UNM School of Law band comprised of Sergio Pareja, dean; Alex Ritchie, associate professor; Jim Butler, former faculty; and Jayson Capps, web administrator.
For more information, please contact Professor Sherri Burr (Art Committee Chair) at 505-277-5650.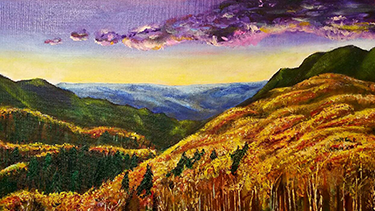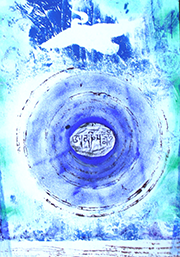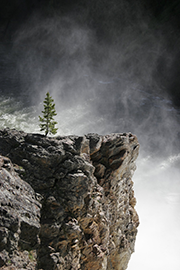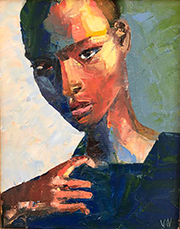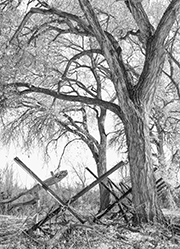 Recent Media
Art Talk interview with Law School Student Artists
Host Sherri Burr interviews UNM law students Suzanne Fortner ('16), Robert Johnston('16), and Kate Worthington ('15), about their artwork featured in the 2015 Student Art Show.
Arts Talk with Sherri Burr and Art at the Law School Part 1 of 2
Arts Talk with Sherri Burr and Art at the Law School Part 2 of 2
About the Gallery
The UNM School of Law Art Gallery features art of varied mediums from artists including students, faculty, alumni and friends of the law school and the university. Professor Sherri Burr, UNM Regents Professor, heads the UNM Law School's Art Committee and is host of ARTS TALK, a weekly television she produces and hosts. Aside from the intrinsic value of having art in the School of Law and the goal of funding a scholarship, Burr says there's another important reason for the art gallery: "An art enriched environment is conducive to learning."
See Professor Burr's profile.
UNM School of Law Art Gallery and Art Committee Chair Sherri Burr in the News
Professor Burr is featured on UNM Proud in the article, "An Artist's Love for the Law." The article describes Burr's successful art career, her Art Law program, and the creation of the Law School Art Gallery and how she has "tapped into the heart of art's influence in New Mexico, and at the University of New Mexico."
On March 25, the Law School's art gallery was featured in the Albuquerque Journal by Staff Writer Mike Bush titled, "Art at UNM Law School". Professor Sherri Burr, who chairs the Law School's Art Committee, is quoted sharing her enthusiasm for the gallery and understanding that art provides intellectual stimulation. The article includes interviews with 3 artists whose work is currently on view in the gallery.
Professor Burr was also interviewed in a blog by Teri Hillyard about National Federation of Press Women members called "Talking with Teri."