SCHEDULE
  Please see check in table inside Courthouse if you need a room assignment or meeting location.
All meetings and trials will be held at the Second Judicial District Courthouse at 400 Lomas Blvd NW, Albuquerque, NM 87102, unless otherwise noted. Please allow time for parking and way-finding and arrive at least 10 minutes prior to your first meeting or trial time on all days. Please check back regularly as content may change.
Thursday February 8th
Time
Event
Location
11:00 AM - 11:45 AM
Coaches' Meeting
Amethyst Room
Doubletree Hotel
12:30 PM - 1:00 PM
Witness, Bailiff and Judges Meeting
Go to Check In Table
1:00 PM
Trials Begin
5:00 PM
Day 1 Trials Conclude
Evening explore downtown Albuquerque eateries on your own.
Friday February 9th
*Volunteer judges are welcome to join the downstairs reception at 6:30 PM, following their private reception
The UNM School of Law wishes to express its gratitude to the New Mexico Fellows of the American College of Trial Lawyers for generously hosting the Volunteer Judges Reception.
Saturday February 10th
| Time | Event | Location |
| --- | --- | --- |
| 8:30 AM - 9:00 AM | Witness, Bailiff and Judges Meeting | Jury Assembly Room, first floor |
| 9:00 AM | Trials Begin | |
| 12:00 PM | Lunch PROVIDED onsite | |
| 12:30 PM | Final ALL Witness, Bailiff and Judges Meeting | Jury Assembly Room, first floor |
| 1:00 PM | Trials Begin | |
| 5:00 PM | Competition Concludes | |
---
PARKING
Please allow time for parking if you are not walking to the Courthouse. The Courthouse does not have open, public on-site parking. Metered parking is available on surrounding streets and throughout downtown Albuquerque. There are daily public paid parking garages. Please use street-side or public garage parking if you are not walking. Those closest public parking structures are listed below, clicking the link will take you to location information, map and daily rates:
500 4th Street Garage: .10 mi.
Metro Park @ Metro Court: .11 mi.
500 Marquette: .20 mi.
---
---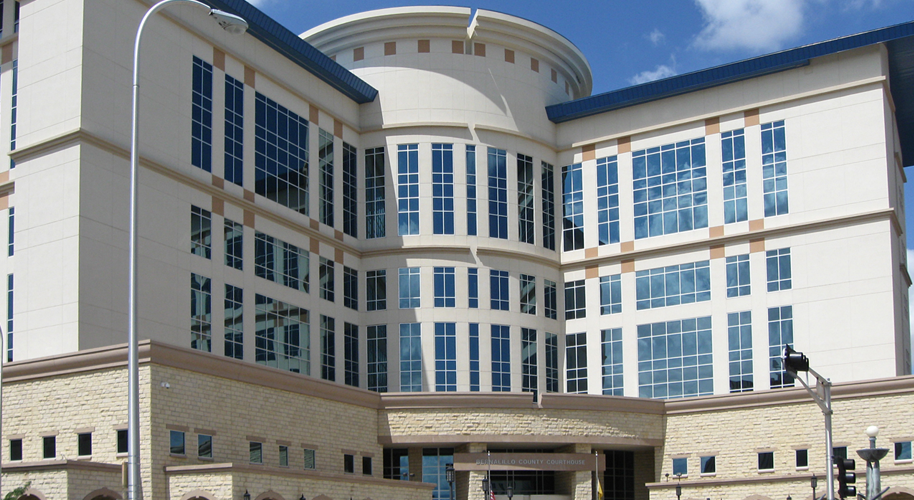 ---
Purses and Bags
Bring only a small purse, backpack or bag. Do not bring large daypacks, luggage or numerous shopping bags into the Courthouse.
Food and Beverages
Food or beverages are not supplied throughout the day for the Competition being held at the Courthouse, with the exception of Saturday's onsite lunch, which will be provided. Bringing your own refillable plain bottled water in plastic containers or travel cups, along with light snacks or resalable beverages is recommended.
Have another question? Contact us using the information below.
---
---
VOLUNTEERS
We are currently looking for three types of competition volunteers on all three days: runners, witnesses and bailiffs. Volunteers make this important competition possible, and we want you! All competition volunteers are invited to join teams and coaches at the evening social events on Thursday and Friday. We hear these are a lot of fun. Law school students, faculty, staff and alumni are strongly encouraged to join us as volunteers. Please check back soon for more information on those gatherings to be held downtown.
Please use the form below to indicate your interest and availability. Volunteers may sign up for one or multiple time slots of the same type. You can be both a witness and a runner at different times, or a bailiff and a runner at different times. We recommend that you do not sign up to be both a witness and a bailiff over the course of the competition, though you may serve in each role more than once. We will reply back to you very soon. Thank you in advance for helping to make this year's competition a success!
---
DoubleTree
The Competition has a room block at the recently renovated DoubleTree by Hilton located at 201 Marquette Avenue NW, Albuquerque, NM, 87102, within walking distance of the Second Juridical District Courthouse and numerous restaurants and coffee shops and eateries. Phone: 505-247-3344. If you require additional onsite space, please contact the hotel front desk as ask for assistance.
Highlights:
Recently renovated
Located downtown
Complimentary courtesy airport shuttle service from 5:00am to 12:00am daily
Near restaurants, shopping and attractions
Access to a modern fitness center, seasonal lap pool and a 24-hour business center
On-site dining options, Café and Lounge
Directions from the Albuquerque Sunport (Airport)
Depart Sunport Blvd SE toward Sunport Blvd SE (0.0 mi.)
Take ramp right for Sunport Blvd SE toward Departing Flights / Ticketing/Check-in (1.9 mi.)
Take ramp right for I-25 North toward Downtown / Santa Fe (2.6 mi.)
At exit 224B, take ramp right toward Dr. Martin Luther King Jr Avenue / Hospital (0.1 mi.)
Bear left onto Oak St NE, and then immediately turn left onto Dr. Martin Luther King Jr Ave NE (0.7 mi.)
Road name changes to Dr. Martin Luther King Jr Ave NW (0.1 mi.)
Road name changes to Marquette Ave NW (0.0 mi.)
Turn right. Arrive on the left (0.0 mi.)
Distance to/from Hotel: 5.5 mi.
Travel Time: 12 min.