Olsi Vrapi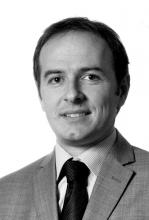 Olsi Vrapi is a partner at Noble & Vrapi. He graduated magna cum laude from the University of New Mexico with a degree in political science and Spanish in 2003. He graduated cum laude from the UNM School of Law in 2006.  
Vrapi is a member of the American Immigration Lawyers Association (AILA) and is heavily involved in AILA's activities to promote the interests of immigrants in the United States.  He is a national speaker and has presented at several conferences and seminars.  Vrapi has served in various capacities at AILA such as a member of the Amicus Committee, Publications Board, EOIR National Liaison Committee and various conference planning committees including being the chair of the Due Process/Litigation Track of the Annual Conference. 
Vrapi was awarded the 2010 Jack Wasserman Memorial Award for Excellence in Litigation in the Field of Immigration Law as part of the Amicus Committee, and the 2012 Joseph Minsky Young Lawyer Award for outstanding contributions made as a young lawyer in the field of immigration and nationality law.
Vrapi has authored various articles and is currently an editor of the Consular Processing Guide, an AILA publication. 
He teaches courses in advanced immigration law and drafting and the intersection between criminal law and immigration law.