Professor Barbara Creel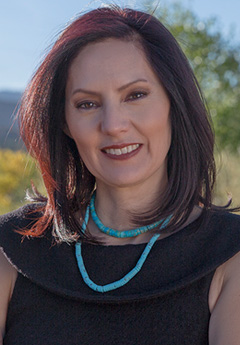 Professor of Law
Director, Southwest Indian Law Clinic
Henry Weihofen Professorship
B.A. 1987, University of Colorado
J.D. 1990, University of New Mexico School of Law
Member of New Mexico and Oregon bars
Profile
Barbara Creel, a member of the Pueblo of Jemez, joined the UNM law faculty in 2007, bringing an expertise in Indian Country criminal defense.
For seven years, she was an assistant federal public defender in the District of Oregon, where she developed a federal habeas corpus and post-conviction expertise. She assisted in the defense of Native American clients on cases from reservations prosecuted under the Major Crimes Act. Creel also worked at the trial level and argued before the 9th Circuit Court of Appeals.
Prior to joining the UNM law faculty, she worked as tribal liaison for the Portland District of the U.S. Army Corps of Engineers, fostering government-to-government relations between the federally recognized Indian tribes and the federal government. She worked with tribal leaders, commanding officers and senior civilian managers, as well as the individual tribal members and corps staff, to translate complex Indian law issues among all parties and build relationships.
Creel's interest in Indian law began when she worked for the Native American Rights Fund during her undergraduate years at the University of Colorado.
Following graduation from the UNM School of Law in 1990, she worked for the National Advisory Council for Indian Education in Washington, D.C. In 1993, she joined the Native American Program of Oregon Legal Services in Portland.
Creel returned to the UNM School of Law in 1995, first as a clinical fellow with the Southwest Indian Law Clinic and later as an associate professor and adjunct in the UNM Clinical Law Program. She taught for four years, during which she also spent time as an appellate public defender with the New Mexico Public Defender's Office. In 1999, she became an assistant federal public defender in Oregon.
She was a contributing author in the 2005 revision of the Felix S. Cohen Handbook of Federal Indian Law. In addition to clinical and Indian law, Creel's academic interests include the intersections of Indian, civil, criminal and constitutional law.
In the News
Publications
Testimony
Testimony on H.R. 1924, the Tribal Law and Order Act of 2009 Before the Subcommittee of Crime, Terrorism and Homeland Security United States House of Representatives, 111th Congress, 1st Session (December 10, 2009).
Available at: UNM-DR
Books
Cohen's Handbook of Federal Indian Law (Nell Jessup Newton, et al., eds., LexisNexis 2005) (contributing author).
Available at: UNM-DR
Articles
Tribal Court Convictions and the Federal Sentencing Guidelines: Respect for Tribal Courts and Tribal People in Federal Sentencing, 46 U. S.F.L. REV. 37 (2011).
Available at: UNM-DR
The Right to Counsel for Indians Accused of Crime: A Tribal and Congressional Imperative, 18 MICH. J. RACE & L. 317 (Spring 2013).
Available at: UNM-DR
Interviews
Sentencing Disparities in Native America, NATIVE AMERICA CALLING (June 4, 2015).
Available at: Native America Calling
News