Professor John P. LaVelle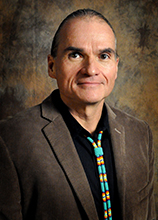 Professor of Law
Regents Lectureship
A.B. 1987, Harvard University
J.D. 1990, University of California at Berkeley (Boalt Hall)
Member of the South Dakota Bar
Profile
John P. LaVelle, an enrolled member of the Santee Sioux Nation, holds the title of Dickason Professor of Law and directs the Indian Law Program at the University of New Mexico School of Law. He received his bachelor of arts degree from Harvard University and his juris doctor degree from Boalt Hall School of Law, the University of California at Berkeley.
Professor LaVelle is a member of the executive committee for Cohen's Handbook of Federal Indian Law, the preeminent treatise in the field of Indian law. In that capacity he helped author and edit the watershed 2005 edition of Cohen's Handbook as well as the treatise's 2007 supplemental update. Professor LaVelle also has served as a co-chair and of the Federal Bar Association's annual Indian Law Conference, held each spring in Albuquerque, and as chair of the Association of American Law Schools Section on Indian Nations and Indigenous Peoples.
Professor LaVelle's publications address Indian people's involvement in the American political system, crosscurrents in the United States Supreme Court's Indian law and federalism jurisprudence, and collaboration between Indian tribes and conservation organizations for restoring tribal sacred lands, including the Black Hills of South Dakota. His latest research focuses on alterations in longstanding doctrines of Indian law stemming from recent Supreme Court decisions, especially those dealing with the extent and limits of tribal and state jurisdiction in Indian country.
Books
Cohen's Handbook of Federal Indian Law (Nell Jessup Newton, et al., eds., LexisNexis 2005). (EXEC. ED.)
Articles
Implicit Divestiture Reconsidered: Outtakes from the Cohen Handbook's Cutting-Room Floor, 38 Conn. L. Rev. 731 (2006).
Rescuing Paha Sapa: Achieving Environmental Justice by Restoring the Great Grasslands and Returning the Sacred Black Hills to the Great Sioux Nation, 5 Great Plains Natural Resources Journal 40 (2001).
Sanctioning a Tyranny: The Diminishment of Ex parte Young, Expansion of Hans Immunity, and Denial of Indian Rights in Coeur d'Alene Tribe, 31 Arizona State Law Journal 787 (1999).
Essays
Petitioner's Brief — Reargument of Oliphant v. Suquamish Indian Tribe, 13 Kansas Journal of Law & Public Policy 69 (2003).
Case at a Glance: Are County Officials Liable for Forcibly Executing a Search Warrant Against a Sovereign Indian Tribe?, 6 Preview of United States Supreme Court Cases 368 (2003).
Strengthening Tribal Sovereignty Through Indian Participation in American Politics: A Reply to Professor Porter, 10 Kansas Journal of Law & Public Policy 533 (2001).
The General Allotment Act "Eligibility" Hoax: Distortions of Law, Policy, and History in Derogation of Indian Tribes. 14 Wicazo Sa Review 251 (Spring 1999).
Review Essay: "Indians Are Us?" 20 American Indian Quarterly 109 (Winter 1996).
Conference Papers and Presentations
The Rise of the "New Federalism" from the Destruction of Indian Rights: A Meditation. Proceedings of the 26th Annual Indian Law Conference of the Federal Bar Association: The New Tribalism Meets the New Federalism (2001).
Panel Discussions from "Indian Nations on the Eve of the 21st Century." 43 South Dakota Law Review 475 (1998).
Reports
Toward a Great Sioux Nation Judicial Support Center and Supreme Court: An Interim Planning and Recommendation Report for the Wakpa Sica Historical Society's Reconciliation Place Project (with Frank Pommersheim). 17 Wicazo Sa Review 183 (Spring 2002).
Awards
Regents Lectureship
Dean's Award for Distinguished Law School Service
Law School News