Professor Antoinette Sedillo Lopez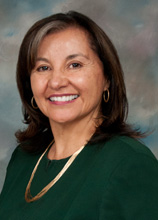 Emeritus Professor of Law
B.U.S. 1979, University of New Mexico
J.D. 1982, University of California, Los Angeles
Member of the District of Columbia and New Mexico Bars
Profile
Though she officially retired in 2014, Antoinette Sedillo Lopez still contributes an eclectic voice to the UNM law faculty by teaching from time to time. She is now the Executive Director of Enlace Comunitario and a member of the Board of the Southwest Women's Law Center and the Valley Improvement Association.
In addition to leading the school's clinical programs, she participated in the development of the book, Best Practices for Legal Education, written by Roy Stuckey and others and published by CLEA. She is also a contributing author to the Best Practices for Legal Education Blog.
She is series editor for Latino Communities: Emerging Voices-Political, Social, Cultural and Legal Issues (1998) and has been editor for another series, entitled, Latinos in the United States: History, Law and Perspective. She also has published poetry in literary magazines.
A New Mexico native, Professor Sedillo Lopez joined the UNM law faculty in 1986 after clerking for the District of Columbia Circuit Court and working in private practice.
She has taught a broad range of courses, from land use, civil procedure and professional responsibility to comparative law. She alternated teaching an academic course with a clinical course until 2001, when she became director of the law school's clinical programs.
A key clinical project has been the UNM Access to Justice Practitioner Network, a group of lawyers willing to offer pro bono and reduced-fee services to under-served clients that the clinic is unable to help. She also is working with the UNM School of Medicine on ways to improve the way lawyers and physicians process domestic violence cases.
In 1996, she took a semester off to run the Clinton-Gore re-election campaign in New Mexico, after which she taught election law at both the UNM law school and the University of Utah.
She has published nationally on a broad range of topics, including international child abduction, family law, Navajo marriage, clinical legal education, Spanish/ English legal dictionaries, international advocacy on women's right and legal education. She has spoken on topics in her areas of expertise to regional, national and international audiences.
Book
Family Law in New Mexico (with Barbara Shapiro 2009).
Books edited
Series Editor, Latino Communities: Emerging Voices—Political, Social, Cultural and Legal Issues (Routledge).
Latinos in the United States: History, Law and Perspective (edited anthology with Introduction) (1995 Garland Publishing).
Volume I, HISTORICAL THEMES AND IDENTITY: MESTIZAJE AND LABELS.

Volume II, LATINA ISSUES: FRAGMENTS OF HISTORIA (ELLA) (HERSTORY)
(paperback edition 1999).

Volume III, CRIMINAL JUSTICE AND LATINO COMMUNITIES.

Volume IV, LATINO EMPLOYMENT, LABOR ORGANIZATION AND IMMIGRATION.

Volume V, LATINO LANGUAGE AND EDUCATION: COMMUNICATION AND A DREAM DEFERRED.

Volume VI, LATINO LAND GRANTS, HOUSING AND POLITICAL POWER.
Articles, Essays, Book Chapters and Reviews
A Medical/Legal Teaching and Assessment Collaboration on Domestic Violence: Assessment Using Standardized Patients/Standardized Clients, 14 Int'l J. Clinical L. Ed. 61 (2009).
Available at SSRN
Making and Breaking Habits: Teaching (and Learning) Cultural Context, Self-Awareness, and Intercultural Communication Through Case Supervision in a Client-Service Legal Clinic, 28 Wash. U.J.L. & Pol'y 37 (2008).
Available at: SSRN
Leading Change in Legal Education - Educating Lawyers and Best Practices: Good News for Diversity, 31 Seattle U.L. Rev. 775 (2008).
Available at: SSRN
Culturally Effective Legal Interviewing and Counseling for the Mexican Immigrant - A Case Study, The Voice: The Journal of the Battered Women's Movement (Fall, 2008): 14-15.
Abstract, Cameron Crandall, Antoinette Sedillo Lopez, Steve McLaughlin, Diane Rimple, Gabriel Campos, Teresita McCarty, Assessment of a Cross-Disciplinary Domestic Violence Training for Emergency Medicine Residents and Law Students, 15 Academic Emergency Medicine S225 (2008).
Latinas in Legal Education- Through the Doors of Opportunity: Assimilation, Marginalization, Cooptation or Transformation?13 Am U.J. Gender Soc. Pol'y & L. 109 (2005).
Available at: SSRN
Bioterrorism at the Movies: Legal Issues in the Movie "Outbreak", BTR 2003 Unified
Science And Technology For Reducing Biological Threats & Countering Terrorism 191 (2003).
Teaching a Professional Responsibility Course: Lessons Learned from the Clinic, 26 J. Legal Profession 149 (2002).
Ethnocentrism and Feminism: Using a Contextual Methodology in International Women's Rights Advocacy and Education, 28 SOUTHERN L. REV. 279 (2001).
Learning Through Service in a Clinical Setting: The Effect of Specialization on Social Justice & Skills Training, 7 Clinical L. Rev. 307 (2001).
Latin American and Caribbean Women: Health Care; Education, contributions to the Routledge International Encyclopedia of Women's Studies (2001).
Law on the Internet: Unauthorized Practice or Public Access? in Law & Technology,
Proceedings of the IASTED International Conference Law and Technology Lawtech, M.H. Hamza, Editor (International Association of Science and Technology for Development 2000) (with Marsha Baum).
Evolving Indigenous Law: Navajo Marriage: Cultural Traditions and Modern Challenges, 17 Ariz. J. Int'l & Comp. L. 283 (2000).
Changing the Way Lawyers Practice: Child Kidnapping and the Internet, paper presented at the International Conference on Law and Technology, August 9-12, 1999, Honolulu, Hawaii, published in the Conference Proceedings, International Association of Science Technology for Development p.116 and posted at: http://www.hiltonhouse.com/articles/Lopez_art.txt.
A Comparative Analysis of Women's Issues: Toward a Contextualized Approach, 10 Hastings W.L.J. 343 (1999), redacted version in Global Critical Race Feminism: International Reader (Adrien Wing editor, N.Y.U. Press 2000).
International Law - U.S./Mexico Cross-Border Child Abduction - The Need for Cooperation, 29 N.M. L. Rev. 289 (1999).
Tracking Kidnapped Children Over the 'Net, 21:4 Family Advocate 42 (1999).
Translating Legal Terms in Context, 17 (4) Legal Ref. Services Q. 105 (1999).
Two Legal Constructs of Motherhood: "Protective" Legislation in Mexico and the United States, 1 U.S.C. Review of Law & Women Studies 239 (1992) excerpt reprinted in NAFTA and Free Trade in the Americas (Folsom, Gordon & Gantz 2005).
Gender, Legal Education and Legal Careers, 41 J.L. Educ. 443 (1991) (with Teitelbaum & Jenkins).
Surrogates, Test Tube Babies, and Frozen Embryos: Searching for Solutions, 20 N.M.L. Rev. 701 (1990).
La Privacidad y la Regulacion de las Nuevas Tecnologias de La Reproducion: Un Plantamiento para tomar Deciciones, 37 Investigaciones Juridicos 442 (1990).
Privacy and the Regulation of the New Reproductive Technologies, 22 Family. L.Q. 173 (1988).
The 1987 Regulatory Takings Trio, 3 Nat. Resources Reporter. 45 (1988).
Educating Our Children "On Equal Terms": The Failure of the Dejure/Defacto Analysis in Desegregation Cases, 7 Chicano L. Rev. 1 (1984).
The Alter Ego Doctrine: Alternative Challenges to the Corporate Form, 30 UCLA L. Rev. 129 (1982).
Book Review
Book Review, Land Use 29 Natural Resources J. 312 (1988).
Non-Academic Writing, Poetry and Blog
Author, Best Practices for Legal Education Blog, http://bestpracticeslegaled.albanylawblogs.org/
Denial, 8 T.M. Cooley J. Prac & Clin. L. J. 27 (2006).
Constitutional Defense, Mirage (Summer 2002).
Surfing the Net for Our Roots, XXVII La Herencia, Winter 2000).
Contribution to Dear Daughters, Dear Sisters: Letters from Multicultural Women lawyers who have been there and done that (American Bar Association 2000).
Receta, XXIII LA Herencia 59 (Fall 1999).
Sisters' Stories, Not Him, and Teresita 2 (2) Voces: A Journal Of Chicana/ Latina Studies 44-49 (Summer 1999).
Albert E. Utton—An Extraordinary Life for a Kid from Aztec, 39 Nat. Resources. L.J. 10 (Jan. 1999).
Testimony, 7 American U.J. Gender & The Law 177 (1998).
Evolution, XIX La Herencia 22 (Fall 1998).
Family Secrets, V Circles: Buffalo Women's Journal of Law & Social Policy 68 (1997).
On Privilege, 2 American. U. J. Gender & the Law 217 (1994).
Colonization, II Circles: A Journal of Law and Women Studies 42 (1993).
Law School News