Madrid Summer Law Institute Facilities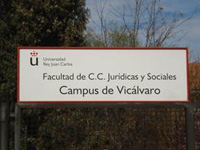 Classes and offices are located at the Vicálvaro campus of the Universidad Rey Juan Carlos, which houses the law faculty of the university. The office of the Madrid Summer Law Institute is located in the lower level of the Edificio Departamental (Departmental Building).
The easiest way to get there is to take metro line 9 to the Vicálvaro metro station. Follow this link to a Madrid metro map.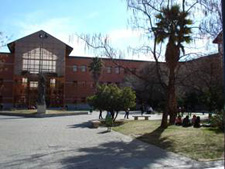 A modern campus for the 21st century
When you exit the station, you will easily see the Universidad Rey Juan Carlos. Enter the university and work your way toward the large wooded area on campus (zona verde del campus). See the following virtual map of the campus (the metro station, which is not visible, is located on the lower right side of campus in the picture):
http://www.urjc.es/visitavirtual/vicalvaro/vv_vicalvaro.html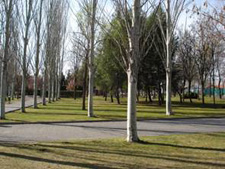 Beautiful green space (zona verde del campus)
When you get to the green space, walk straight to the back of the green space to the parking lot in front of a building. That building is the Edificio Departamental.
Enter the building from the main door in front of the parking lot. Once inside, you will need to go down one flight of steps to find the office of the Madrid Summer Law Institute. It is located in office number J09. The program administrator in that office is Inés Garcia Saillard. Her office phone number is (00 34) 91 488 79 69.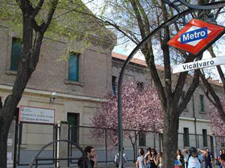 View of the Universidad Rey Juan Carlos from Vicálvaro metro exit
The campus has two cafeterias. One offers simple food, such as sandwiches and coffee at very reasonable prices. Coffee costs 80 centimos (about $1, depending on the current exchange rate). Sandwiches cost about 2 euros (about $2.50). The other cafeteria offers set menu lunch specials consisting of a first and second course, dessert, and drinks (including wine) for 5 euros (about $6.25).