Justice Mary Walters Award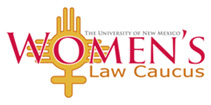 Judge Cynthia Fry and Bonnie Stepleton Named 2016 Justice Mary Walters Honorees.
Fry and Stepleton to be recognized at Awards Dinner February 24th, 2016 at the Andaluz Hotel in Albuquerque. Tickets are $90.
Each year the Women's Law Caucus chooses two outstanding women in the New Mexico legal community to honor in the name of former Justice Mary Walters, who was the first woman appointed to the New Mexico Supreme Court. In 2016 the WLC will honor Judge Cynthia Fry and Bonnie Stepleton.
Justice Mary Walters Award Tickets
Tickets are now available for purchase.
Judge Cynthia Fry

Judge Cynthia Fry was elected to the New Mexico Court of Appeals in 2000. She received her J.D. from the University of New Mexico School of Law in 1981. Judge Fry practiced with Civerolo, Hansen & Wolf, P.A. and with Lebeck & Fry, P.A., both Albuquerque law firms. Beginning in 1990, she maintained a solo practice concentrating on appeals, and in 1995 she was certified as an appellate specialist. Judge Fry served on the Supreme Court's Appellate Rules Committee and as chair of the New Mexico State Bar Association's Appellate Practice Section. Judge Fry has had a distinguished career as a jurist and has followed in the footsteps of Justice Walters first by her years in private practice and then later as a member of the Court of Appeals. Judge Fry represents the very qualities exemplified by Justice Walters – a strong independent judicial voice, a clear and direct style of judicial writing, and the upmost civility and integrity.
Bonnie Stepleton

Ms. Stepleton has been an attorney in NM for nearly 30 years, having been in private practice, having represented and advocated for disabled persons and having served as Dean of Students at the UNM Law School for 10 years. Currently, Ms. Stepleton is the Mediation Bureau Chief for the NM Workers' Compensation Administration. She regularly presents on the topic of ADR and she is passionate about mediation as a tool in litigation. Ms. Stepleton is well regarded in her circles. She has had positive influence on so many, notably law students and she continues to be a support to so many. Ms. Stepleton has a down-to –earth manner. She has the uncanny ability to see the big picture all the while noting the forest and the trees!