Howard University School of Law Exchange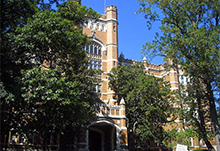 Students at the University of New Mexico School of Law can spend a semester at Howard University School of Law through an exchange program that began in the Fall 2010 semester. Up to two UNM law students every semester can take advantage of this program, which provides them with a unique exposure to Howard's legal programs and the chance to take advantage of opportunities in Washington, D.C. They also will benefit from a strong and supportive UNM alumni community.
UNM law applicants must be in the top half of their class at the time of application and they will pay UNM tuition as usual.
Alumni Support
In addition to unmatched educational opportunities available only in the nation's capital, UNM law students who spend a semester at Howard University will enjoy resources and support from a vibrant UNM School of Law alumni community. An alumni committee whose members live and work in the Washington, D.C. area have come together to ensure that every UNM law student succeeds during their time at Howard, or when working, interning or externing in the Washington, D.C. area.
For more information regarding our alumni in the Metro DC Area, please send an email to alumni@law.unm.edu. Or visit their groups at LinkedIn or Facebook.
For More Information
For more information, contact Ernest Tafoya, Registrar.
UNM Law Students
Howard University School of Law
The location of Howard University School of Law in the nation's capitol provides convenient access to the extensive Washington, D.C. court system and many of the city's cultural and historical institutions. The 22-acre campus is easily accessible by public transportation and major thoroughfares. In addition to a strong externship program, a key program at Howard is the Institute of Intellectual Property and Social Justice, a center whose intent is to "use intellectual property law to advance social justice in the United States and the global community."
Since the Fall 2010 semester, UNM law students have been able to spend a semester studying at Howard University School of Law. Up to two UNM students may be allowed every semester to attend the Washington, D.C. law school, and two students from Howard University may be allowed to study at UNM. The students will pay the tuition and fees of their home schools, but will enjoy the same privileges of students at their host school. UNM students are responsible for their own living arrangements and expenses, but UNM School of Law personnel will provide assistance as best as they can.
The nation's capital provides opportunities to view lawmaking processes firsthand. Students can observe the U.S. Senate and House of Representatives, and regulatory agencies such as the Federal Trade Commission, Federal Communications Commission and the National Labor Relations Board. The United States Supreme Court and other federal and local courts provide insight into the judicial system. Federal administrative agencies and executive departments permit students to observe at close range the processes of American political and legal systems. The Library of Congress and several other special collections offer the best research resources in the world.
Who is Eligible
The exchange is open to second- and third-year UNM students who are in the top half of their class the semester prior to the exchange semester. UNM law students must take the equivalent of a full course load at their host school and are encouraged to take courses and externships not offered at UNM. Their proposed schedule of courses must be approved by the UNM School of Law dean or his designate.
Visiting Students
The School
The University of New Mexico School of Law, the state's only law school, is located at the edge of a nine-hole golf course and adjacent to the state Court of Appeals Pamela B. Minzner Law Center.
Students will find a school that emphasizes a commitment to practical lawyering in a small, intimate environment. A 10:1 student/faculty ratio fosters personal and hands-on involvement both inside and outside the classroom. In addition to its flagship Clinical Law Program, students come to the UNM School of Law to study Indian Law and Natural Resources Law, which is enhanced by the Utton Transboundary Resources Center. In addition to those areas, the faculty brings a rich diversity of interests and experiences to the school.
The City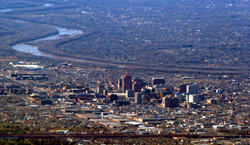 Albuquerque is the state's largest city, with a metropolitan population exceeding 700,000. Straddling the Rio Grande, the city stretches from high-desert plains to the Sandia Mountains, and is bordered on two sides by Isleta Pueblo and Sandia Pueblo. With a rich multi-cultural history, Albuquerque retains a strong connection to its Spanish colonial and Native American past, and is also home to a vibrant contemporary arts community.
At an altitude of 5,000 feet, the city enjoys a steady diet of sunshine and a moderate climate, and is home to the largest hot-air balloon rally in the world every October.
Albuquerque Convention and Visitors Bureau
The State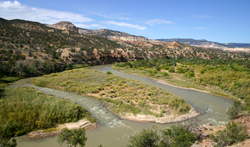 Evidence of New Mexico's fascinating history is found in its legal landscape. For example, there are 22 self-governing Indian tribes in New Mexico, providing students with unique learning opportunities. The state's water law reflects its origins in Spanish law. Albuquerque is an hour's drive south of Santa Fe, one of the oldest capital cities in the country and also an art mecca.
Whatever direction visitors strike out from Albuquerque, they will find a state unlike any other, where Spanish might still be the first language spoken, or a dramatic landscape carved by ancient volcanoes.