Small School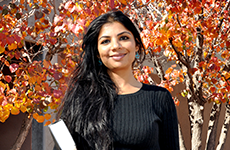 "Every teacher at the UNM School of Law is so supportive. I'm motivated more and more every day. Each one gives me as much time as I need, every day, and they are so nice! I feel I can't let them down; they want me to succeed as much as I do!"
Small School. Big Advantages.
At the UNM School of Law, we keep our classes small. Students get to know their professors, there's more time for class discussions, and students get to know each other more.
Small Classes. Big Interaction.
First year research/writing class size: 14-20 students
The median size of our upper division classes: 12 students
Small Faculty. Big Learning.
Our faculty are dedicated and strongly committed to teaching. They bring real-world experience to the classroom and a healthy diversity of backgrounds, professional interests and outlooks.
Small Seminars. Big Opportunities.
In seminars, students represent clients under close supervision of faculty or practicing attorneys. Hands-on learning is incorporated in many classes, including drafting, moot court and mock trial.
Small Community. Big Networking.
Our legal community is highly engaged – judges and attorneys teach our classes, guest lecture, coach academic competition teams, provide internships and hire our graduates.
Small Distance. Big Appeal.
With the Court of Appeals on campus (likely the only one in the country), law students can attend hearings of pending cases, rehearse for moot court, and take a class taught by a judge.
Small School. Big Activities.
Activities for students are wide-ranging and include the Natural Resources Journal, the New Mexico Law Review, the Tribal Law Journal, and several moot court and mock trial competitions.
All law students are members of the University's Graduate/Professional Student Association and the Student Bar Association. Students may participate in one or more of the over 20 law student organizations.