Madrid Summer Law Institute Field Trips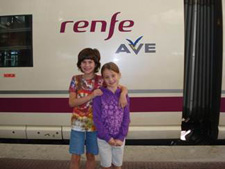 High-speed trains make travel in Spain quick and easy
The Madrid Summer Law Institute includes organized field trips to Spanish legal institutions. Note that the details of these site visits are subject to change.
The tentative plan is for students to do two site visits. First, students will visit the Madrid Bar Association, where they will hear a presentation from a partner at the Thomas Cooper Firm, a law firm with offices throughout Europe. The firm's legal specialties include insurance, aviation, shipping, and international arbitration. A partner at the firm will meet with students to discuss how an international law practice works in Europe.
Second, students will visit the Madrid Office of the European Parliament.