Entertaining Family and Friends in Madrid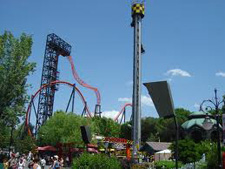 Parque de Atracciones
Because students often travel with family members, including spouses, parents, and children, it is useful to think about what they might be able to do while you are in class or studying.  Fortunately, the opportunities in Madrid are endless.
As other parts of this website demonstrate, there are plenty of museums and cultural events to keep people entertained.  In addition, there are many many parks throughout the city, including the fabulous Parque del Retiro. For outdoor activities, spend the day biking or hiking at Casa de Campo.
Madrid also has wonderful amusement parks, zoos, and water parks that will keep children of all ages happy. For a wonderful zoo very close to Vicálvaro, try Faunia. If you don't see an animal that you're looking for there, try the Zoo and Aquarium. This wonderful zoo also has a large shark tank, a dolphin show, a sea lion show, and two different types of bird shows.
If amusement parks are what you are looking for, try the Parque de Atracciones. This is Madrid's local theme park.  For an amusement park full of familiar cartoon characters, try the Warner Brothers Amusement Park.  If water parks are your thing, try one of Madrid's two Aquópolis water parks.