Madrid Summer Law Institute Travel Opportunities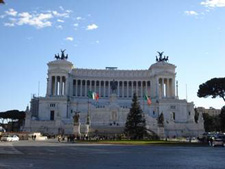 It's a short flight to Rome
Inexpensive and easy travel opportunities are abundant in Spain. From Madrid, it is often possible to find airfare to European cities for as little as $15 each way, which will allow you to take advantage of the three-day weekends of the Madrid Summer Law Institute. In a couple of hours, you can be in London, Paris, or even in Morocco, where you might ride a camel through the Sahara.
Although there are several budget air carriers that fly out of Madrid, two of the most popular are RyanAir and Easy Jet. Check out their websites to see how little it costs to travel from Madrid:
If you prefer to stay on the ground, take a train or bus. Madrid is centrally located in Spain, which makes it easy to see the country. If you hop on a high speed train, you can arrive in Valencia, with its beautiful Mediterranean beaches, in just over an hour and a half.  The next weekend, you can take the two-and-a-half hour high speed train to Seville, in the heart of Andalucia, to enjoy authentic flamenco performances. Even the amazing city of Barcelona, near the French border, is only two and a half hours away by train.
For a slower ride over a long distance, take a "Train Hotel" (tren hotel). These comfortable trains allow you to take in the beautiful countryside. Popular routes include the overnight trains to Paris, Lisbon, and the famous pilgrimage city of Santiago de Compostela.
Most trains leave out of the Chamartín (to the north) and Atocha (to the south) train stations. See the Renfe website for schedules and prices.
For even cheaper travel, take a long distance bus. See ALSA's website for schedules and prices.