University Rey Juan Carlos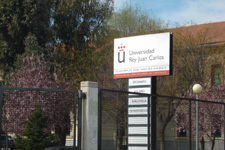 The University Rey Juan Carlos (URJC) is one of six public universities in Madrid.  The other five are Complutense, Carlos III, Politécnica, Alcalá, and Autónoma.
URJC's name is a tribute to King Juan Carlos I (who abdicated the throne to his son on June 2, 2014, the first day of classes for the 2014 Madrid Summer Law Institute!). The university was founded on July 8, 1996, with the Latin motto "Non Nova Sed Nove" ("No new things, but a new way").  URJC is the third largest public university in the region, with approximately 33,000 students total on four campuses.
The Vicálvaro campus is the center of law and social studies, including language studies, journalism, economics, and a variety of other majors. The campus was founded in 1998.
URJC and the University of New Mexico (UNM) have had a general cooperation agreement since 2006. Their current exchange agreement was signed in 2013. These two agreements cover all disciplines at both universities. With regard to the Institute, URJC law professors teach the European Union law course, and the URJC law school provides administrative support and classroom space. The UNM School of Law provides URJC law students an introductory class on U.S. law and the opportunity to audit Institute classes along with U.S. law students.
University Websites
Universidad Rey Juan Carlos (English version)
This is the main website of the Universidad Rey Juan Carlos (URJC) with links to all the academic departments, calendar, and general directories. Also available in Spanish.
URJC Facultad de Ciencias Jurídicas y Sociales (Spanish only)
This is the website for the Vicálvaro campus of URJC, where the Madrid Summer Law Institute happens.