Madrid Summer Law Institute Admissions, Credits & Grading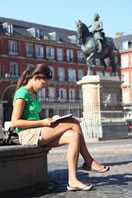 The Institute welcomes applications by law students enrolled at any law school in the world, graduates of those schools, and graduate students or persons holding graduate degrees in related disciplines.
Students seeking credit toward a J.D. degree must be enrolled in a state-accredited or ABA-accredited law school.
Credits
Acceptance of any credit or grade and their use for graduation or early graduation is subject to determination by each applicant's home school. As the program has been approved by the ABA, most ABA schools will accept credit. Students normally enroll in two courses for a total of five semester hours of credit. Students choose one of two available three-credit courses, and all students enroll in one two-credit course on European Union Law.
Grading
The grades awarded in the courses are indicative of the quality of work done: A=Excellent, B=Good, C=Satisfactory, D=Barely Passed, F=Failed. Teachers may give pluses and minuses in awarding the final grades. The final grade for each student is determined by the teacher teaching the course. The grades for each course are reported to the home law school of the student. Schools have different policies with respect to whether the assigned grades affect GPA, class rank, honors, awards, etc. The student should check with his or home school regarding how it will handle grades reported by the Institute.
Applicants for whom credit or a grade is important are advised to secure a prior written commitment from their schools.
It is unlikely that participation in the courses offered by the Madrid Summer Law Institute may be used to accelerate graduation. Students interested in acceleration should consult their home law schools before applying to the Institute to review the issue in light of ABA Standard 303, Interpretation 304-4.
For more information regarding grading policies, see Grading Policies.
Students with questions about credit, grading, or accelerated graduation should have their schools contact the program director, Professor Nathalie Martin, at madrid@law.unm.edu.