Madrid Summer Law Institute Financial Aid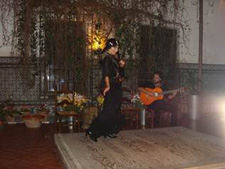 Live Flamenco in Seville
If you are interested in attending the Madrid Summer Law Institute and are going to request financial aid in order to pay for the program, you must have a current FAFSA  application and a completed financial aid file at your financial aid office to ensure that your funds will be available to you prior to the beginning of the program.
You must apply for financial aid from your own law school for this program. Loans and grants are available because the Institute offers courses from an accredited law school. Most aid is need-based. If you or your school have questions or need something specific to approve or process your financial aid package, contact Diana Reynoso at (505) 277-9035 or by email at reynoso@law.unm.edu.
It is the student's responsibility to complete all paperwork in time to receive a disbursement before the program begins. If you have not received your financial aid award and have not paid all tuition and fees to the Institute prior to your arrival in Madrid, you will not be admitted into the program.
Scholarships
All monies collected by the Madrid Summer Law Institute are used to pay for the cost of the program. Some schools may offer scholarships to offset the cost of attending a summer program abroad. Please check with your school regarding the availability of these of scholarships.