Madrid Summer Law Institute Health & Housing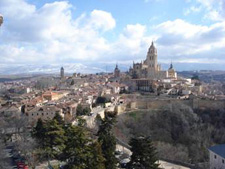 Segovia
Students are encouraged to review the following information as it will enhance their experience as well as ensure their safety.
Immunizations and Health Considerations
No inoculations are required to enter Spain. The Center for Disease Control recommends that travelers to Spain make sure that they are up to date on routine vaccinations. In addition, a Hepatitis B vaccination is recommended for all unvaccinated persons who might be exposed to blood or body fluids, have sexual contact with the local population, or be exposed through medical treatment, and for all adults requesting protection from HBV infection. Detailed information available at the CDC website:
http://wwwnc.cdc.gov/travel/destinations/spain.htm
Good medical care is available throughout Spain. Regulations regarding medications may vary from those in the United States, however. Spanish regulations do not permit the international shipment of medication, so please do not ship medication from the United States to Spain.
Students may wish to consult with a doctor concerning other recommended health measures, and take a sufficient quantity of prescription medications with them for the four week period.
Students who plan on travelling with prescription drugs or who have known medical conditions (physical or mental) are strongly urged  to consult with their personal health care provider.
Disabilities
Persons with disabilities should ensure that the housing that they secure is accessible to them. The university and public transportation in Madrid is generally accessible to persons with disabilities.
Housing
The Madrid Summer Law Institute does not provide housing. It is each student's responsibility to secure his or her own housing. However, there are a variety of housing options in the Madrid area. Because Vicálvaro is a community with a large student population, housing in the area tends to be significantly less expensive than in other areas of Madrid. That being said, the area feels very safe, and it has grocery stores, restaurants, and a shopping mall.
Perhaps the most common way for students at the Universidad Rey Juan Carlos to obtain housing is through the following website:
www.aluni.net
Aluni.net rents furnished and equipped rooms in apartments to students who share common living areas. Students may choose to rent one room in an apartment, or a group of students may collectively rent the whole apartment. The cost for the whole apartment is the sum of the costs of the rooms in the apartment. The Madrid Summer Law Institute will facilitate contact among students applying to the program who would like to share an apartment. If this possibility interests you, please e-mail the institute at madrid@law.unm.edu.
The cost of a room in an apartment of course depends on the location of the apartment as well as the size of the room. Rooms in apartments within walking distance to the Universidad Rey Juan Carlos in Vicálvaro tend to range from 300-350 euros (approx. $400-$500) a month plus utilities. The cost of utilities obviously depends on usage, but aluni.net has said that each student tends to average about 35 euros a month. Aluni.net also requires a one month security deposit, which is refunded if there is no damage to the apartment. Finally, Aluni.net charges a 47 euro administration fee (this a 40% reduction from the normal fee because the program has signed an agreement with Aluni.net – make sure Aluni.net knows that you are studying at the Madrid Summer Law Institute administered by the University of New Mexico and the Universidad Rey Juan Carlos).
It is very easy to search for apartments on-line at aluni.net's website. First, identify the location where you want to live. Obviously, apartments in Vicálvaro will be closest to the university. If students prefer to live closer to central Madrid but within an easy commute to the university, it is probably best to look along metro line 9 heading north from Vicálvaro. For example, aluni.net has apartments available in Valdebernardo (close to Vicálvaro) and Sáinz de Baranda (walking distance to the Parque del Retiro in Central Madrid, but only a twelve-minute metro ride to Vicálvaro).
Students using aluni.net will probably find it easiest to set up the rental through the internet well before arriving in Madrid. Payment can be made with a credit card. One piece of advice: in addition to picking a location that you like, consider the available amenities that are important to you. Most, but not all, apartments come with wireless internet access. Some apartments have air conditioning. Some have a pool. In short, find an apartment that suits your needs.
There is also a possibility that a limited number of spaces in an on-campus dormitory building will be available. The dormitory building is a five minute walk from the Madrid Summer Law Institute office and classrooms at the university. Each room has a kitchenette and a private bathroom. The building has a computer room as well as a study room. There is also a cafeteria with reasonably-priced meals available. It is likely to cost about 460 euros for a single room and about 360 euros per person in a double room for a month. More details can be found at the following website:
http://www.residenciavicalvarourjc.es/en/
If you are interested in the possibility of staying in a dorm room, please e-mail madrid@law.unm.edu to have your name put on a list of interested students.
The following website contains information regarding a variety of additional housing options that you might want to consider: