Madrid Summer Law Institute Insurance Requirements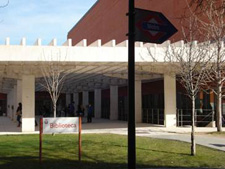 The library at U. Rey Juan Carlos
All students must have accident and health insurance, which provides emergency medical evacuation and repatriation and which is valid in Spain. 
Spanish health professionals may expect payment in cash for treatments received. UNM and the Universidad Rey Juan Carlos are not responsible for costs incurred due to accident or illness during the Madrid Summer Law Institute.
Your comprehensive health insurance for the duration your stay abroad must meet the following conditions:
Minimum $100,000 coverage for illness or injury
Minimum $200,000 for medical evacuation
Minimum $100,000 for repatriation of remains
Students are required to demonstrate that they have purchased adequate insurance (as part of GEO's mandatory online registration) before they travel abroad. The standard domestic policies held by UNM students, such as Blue Cross Blue Shield and Presbyterian, do not meet these requirements. Nor do the standard plans offered to UNM faculty and staff.
For this reason, UNM GEO has contracted with Cultural Insurance Services International (CISI) to offer international coverage to students. CISI sells international insurance for a minimum period of one week, at a cost of $11.25 per week. To purchase this coverage, go to https://culturalinsurance.com/UNM and enter UNM's sponsor code: UNM
You can download CISI's brochure here  (PDF).
You also may want to contact the international center at your school regarding coverage.