Madrid Summer Law Institute Passports & Visas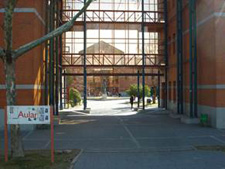 Entry to the central courtyard at U. Rey Juan Carlos
Proof of Citizenship to Re-enter the US
All U.S. citizens traveling by air outside of the United States are required to present a passport book to re-enter the United States.
All U.S. citizens are encouraged to apply for a U.S. passport well in advance of anticipated travel. Wait times are currently 4-6 weeks for routine service and 2-3 weeks for expedited service, but these are average wait times and can fluctuate depending on the number of applicants. U.S. citizens can visit the Bureau of Consular Affairs website or call 1-877-487-2778 for information on how to apply for their passports. UNM law students may apply for or renew their passport through the UNM Bookstore's Passport Acceptance Center on the main campus.
YOUR PASSPORT MUST BE VALID FOR AT LEAST THREE MONTHS FOLLOWING THE DATE OF YOUR PROJECTED EXIT FROM THE EUROPEAN UNION MEMBER STATES, so be sure to check the expiration date on your passport and renew it at your earliest convenience if necessary. For more information see the Entry Requirements webpage of the Embassy of Spain in Washington, D.C.
U.S. legal permanent residents need to ensure that they have the proper documentation to allow reentry into the United States.
Registration
The Director will register the Institute's program dates and roster with the U.S. Department of State. We strongly encourage U.S. citizens to independently register with the State Department's Smart Traveler Enrollment Program, especially if you will be extending your trip beyond the program dates. Registration is important as it allows the State Department to assist U.S. citizens in an emergency. It also helps friends and family get in touch with you in the event of an emergency. Here's the link to the Smart Traveler Enrollment Program.
Spanish Entry/Exit Requirements
Following you will find information from the U.S. State Department's website regarding Spain's entry and exit requirements for U.S. citizens:
Spain is a party to the Schengen Agreement. This means that U.S. citizens may enter Spain for up to 90 days for tourist or business purposes without a visa. Your passport should be valid for at least three months beyond the period of stay. You need sufficient funds, evidence of hotel reservations or an official letter of invitation if you will stay with family or friends, and a return airline ticket. For additional details about travel into and within Schengen countries, please see our Schengen Fact Sheet. For details regarding what is required for an official letter of invitation please visit the website of the Spanish Embassy in the U.S.
The Spanish Government scrutinizes visitors who overstay their visas or their visa-free entry per the Schengen Agreement. Immediate deportation after spending a number of days in jail is not uncommon. You should leave Spain promptly at the end of the 90-day visa-free travel period or at the end of the time stated on your visa.
U.S. citizens who wish to stay in Spain for longer than three months or who wish to apply for residency in Spain will also need to supply local authorities with an official criminal records check from their state of residence or from the Federal Bureau of Investigation's Criminal Justice Information Services office (CJIS). Both types of documents must be apostilled by the state authority for state criminal records and by the Department of State for the FBI records.
The embassy does not take fingerprints for the purpose of criminal records checks; rather, U.S. citizens can obtain a letter from the U.S. Embassy asking local police to take their fingerprints. Individuals need to make an appointment for notarial services to obtain the letter.
In an effort to prevent international child abduction, many governments have initiated procedures at entry/exit points. These often include requiring documentary evidence of relationship and permission for the child's travel from the parent(s) or legal guardian not present. Having such documentation on hand, even if not required, may facilitate entry/departure.
The U.S. Department of State is unaware of any HIV/AIDS entry restrictions for visitors to or foreign residents of Spain.
Visit the Embassy of Spain's website for the most current visa information. For more information concerning entry requirements for Spain, travelers should contact the Embassy of Spain at 2375 Pennsylvania Avenue NW, Washington, DC 20037, telephone (202) 452-0100 or (202) 728-2340, or the nearest Spanish Consulate in Boston, Chicago, Houston, Los Angeles, Miami, New Orleans, New York, San Francisco, or San Juan. Information for the Spanish Embassy and consulates can be found at the Embassy of Spain's website. Additional information can be found on the Spanish Ministry of Foreign Affairs website or obtained from the Tourist Office of Spain which has offices in several U.S. cities.
If you are not a US citizen or are not planning on entering Spain on a US passport, you should contact the Spanish embassy for information relevant to your particular situation. You may want to read the following websites (in English) from the embassy's website:
http://www.exteriores.gob.es/Portal/en/ServiciosAlCiudadano/InformacionParaExtranjeros/Paginas/Inicio.aspx