Madrid Summer Law Institute Arrival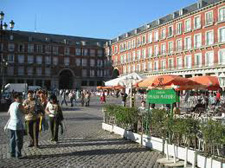 Plaza Mayor
You should plan to arrive in Madrid two to three days prior to the start of the program. We recommend that you arrange your housing beforehand so that you have a place to stay right when you arrive.
Remember that you will need some time to adapt to the time difference in Madrid.  It is nine hours later than the west coast of the United States, eight hours later than Albuquerque, seven hours later than Chicago, and six hours later than Washington, D.C. Everyone is different, of course, but we have found that it is best to force yourself to stay awake all day on the day that you arrive in Madrid to adapt as quickly as possible to the time difference.
Hotels
If you arrive before you can move into your apartment, we suggest that you try to find a hotel or hostel somewhere near Line 9 of the metro. A nice area is anywhere near Retiro Park.  That will make it easiest for you to get to the area around the university because it's a straight shot, short metro ride from there.
Depending on your needs, you should be able to find a hotel room for $50-$70 a night. Hostel beds are obviously cheaper. There seem to be some less expensive hotels in the area around Valdebernardo, which is close to Vicálvaro. If you have any questions about an area or a hotel, please contact the program director at madrid@law.unm.edu.
Arrival Notification
Immediately upon arrival, you should check in with the Madrid Summer Law Institute to let us know that you have arrived. Email madrid@law.unm.edu or contact MSLI staff:
UNIVERSIDAD REY JUAN CARLOS STAFF
Inés García Saillard
Edificio Departamental - Campus de Vicálvaro
ines.garcia.saillard@urjc.es 
91 488 79 69
UNIVERSITY OF NEW MEXICO STAFF
Hannah Farrington
MSLI Program Administrator
farrington@law.unm.edu
Diana Reynoso
MSLI Program Coordinator
reynoso@law.unm.edu