Madrid Summer Law Institute Finances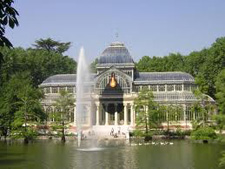 The Crystal Palace in Retiro Park
You may want to exchange some U.S. dollars into euros before you arrive in Spain because it is often easier than trying to do at the Madrid-Barajas airport after a long flight.
Credit cards are accepted at most commercial businesses throughout Spain. However, note that the European "chip and pin" credit card system is becoming very common in Spain. You can use U.S. credit cards with a chip at automatic ticket machines. Paying a person with a credit card is also possible, but you need to show your passport and sign the credit card slip.
Note that U.S. credit cards often incur heavy foreign transaction fees for charges made outside the U.S.  There are at least two companies that offer credit cards that don't charge these fees:  BankAmerica and Capital One. That being said, bank policies change frequently. Be sure to check with your bank well before your trip regarding foreign transaction fees so that you are not unpleasantly surprised after you return home.
The easiest way to obtain cash in Spain is with an ATM card. Automatic teller machines are very common in Spain and the rest of Europe. You may want to check with your bank on withdrawal charges in Spain. These are quite common.  The Spanish ATM machine may also charge a fee.  Of course, always be observant and wise when taking money out of an ATM machine.
It is not advisable to carry large sums of cash with you because pickpockets do target tourists. The safest way to carry cash and important cards and documents is in a money belt.