Madrid Summer Law Institute What to Bring
The text and materials for your courses. There are no extra copies available if you forget to bring them.
A good Spanish/English Dictionary purchased in the U.S. is handy to have.
An ATM card that will work in Spain (call your bank) and some euros for your first few days in Madrid.
A state driver's license and your passport.
Rain gear and practical clothing. Normally the weather is sunny and pleasant, but rain obviously does happen.
A light sweater or jacket. Many people find it to be a little cool in the mornings and evenings.
Bring comfortable clothes that are easy to wash and need little ironing and that don't stretch easily. Although most apartments have small washing machines, clothes dryers are extremely rare in Spain. In the vast majority of cases, you will be hanging your clothes up to dry.
A continental European plug adaptor (usually available at Walmart, K-Mart, and Radio Shack).  Outlets are round and plugs have round holes in Spain: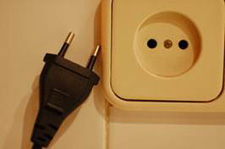 If you have any electronic items that do not have a voltage converter, you will need a voltage converter as well.  Outlets in Spain are 220 volts as opposed to 110 in the U.S.  Note that most computers, video cameras, etc. have automatic voltage converters on the plug cord or in the device.  Check the labels.  If it says something like "Input:  100 – 240 V," that should be just fine.  Also, note that you can buy plug and voltage converters in Madrid.  Go to a "ferretería" (hardware store) to do this.
At least one nice outfit. You will be expected to dress nicely for visits to legal institutions. There also are elegant cultural events that you may choose to attend on your own or with friends.
A large bath towel and a wash cloth. Normally they are not provided in homes or furnished apartments that you rent. That being said, you can buy one when you get here. A large store that has virtually everything you might need is called Alcampo. You will find one at the Estrella metro stop on Line 9, about ten minutes from Vicálvaro. This is also where you need to go if you want certain American pleasures, like peanut butter, maple syrup, pancake mix and certain Mexican and Asian foods.
If you are picky about your school supplies, like U.S.-style lined paper, you might want to bring those with you. If you are not picky, you will be able to purchase all the school supplies you will need either on campus or at a store like Alcampo.
There probably will be no computers or typewriters available for student use at the Universidad Rey Juan Carlos. If you want one, bring your own. That will also let you play DVDs from home. U.S. DVDs do not work in European DVD players (CDs do, however).
If you wear glasses or contacts, bring a spare pair or at least your prescription. If you take medicine or vitamins regularly, bring a supply for your entire stay. Certain medicines and vitamins can be more expensive in Madrid than in the U.S.
Bring a good guide book on Spain. The Rick Steve's guidebook is excellent.