Student Bar Association Advocacy Fund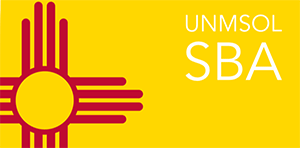 PURPOSE:
The School of Law and the Student Bar Association is better-served by student-driven government relations activities. Because of the unique issues and needs confronted by law students, having an organized SBA government relations operation is the optimal method to ensure law student interests are protected.
SCOPE:
This program is intended to be broad in scope, to facilitate advocacy requests of any law student to further the interests of the Law School, the Student Bar Association, UNM, Students or Employees of UNM, or any cause related to the purpose of the Law School or SBA. Whether or not a request falls within the scope will be according to the SBA board's discretion. Acceptable Venues for the Advocacy include but are not limited to: New Mexico State and Local Governments, The UNM Board of Regents and Officials, US Government, New Mexico Bar Association, etc.
BUDGET:
The Funds for this Program come from SBA's General Budget, Line-Item: "SBA Advocacy Fund."
Individually, funds are guaranteed and reimbursed to law students on a case by case basis.
GUIDELINES:
Advocacy Projects must be approved in advance, and in writing, by the SBA Board.
Your "Advocacy Proposal" must answer the following:
How is this going to advance the interests of the Law School?
Where are you going?
Who are you going to meet with/speak to?
When will this event/meeting take place?
What is the content of what you are going to present?
SBA MEETING PRESENTATION:
You must present your project during a weekly SBA Board meeting.
FUND GUARANTEE:
The SBA will guarantee reimbursement (in advance) for NM travel:
Mileage (at current Federal Rate)
Per diem meal cost per day (Max $35) (min 4 hour project required)
The SBA will consider special requests for Advocacy Funds, other than the above, but for airline, hotel, supplies, etc. please see SBA travel fund request.