Doors keep opening for 1L Vladimir L'Ouverture
December 19, 2016 - Tamara Williams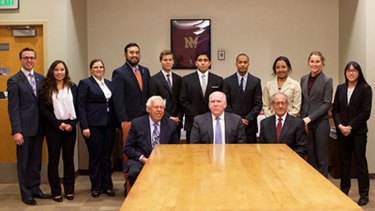 A passion for education, finding mentors and taking advantages of opportunities is a winning combination for Vladimir L'Ouverture (Class of '19). Along the way, doors keep opening for him.
Before entering law school, L'Ouverture earned a master's degree in political science, took a two-year certification program as an intelligence analyst, and applied to the UNM National Security Studies Program Scholar Program.
He has been a UNM NSSP Scholar for five years and has found that the seminars, mentoring, internships, and other programs have paved a way into the Intelligence Community (IC).
Recently L'Ouverture had the opportunity to not only hear John Brennan, Director of the Central Intelligence Agency, speak on future intelligence and security challenges at UNM, but to meet with him in person.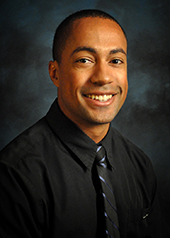 Brennan visited the university to announce the launch of the CIA's Signature School Program and UNM's role as the first participant in the program. "New Mexico is a very diverse institution, and the selection pool from this school gives the agency the opportunity to cast a broad net over students, from many different walks of life," says L'Ouverture.
He was one of ten NSSP Scholars selected to meet with Brennan, whom he describes as "extremely courteous, amicable and cares vastly about the students being recruited into the program."
L'Ouverture adds, "I was pleasantly surprised at how personable someone of that stature and ranking could be. He took the time to meet with ten NSSP students in a private conference room, and we discussed topics ranging from our participation in the NSSP to our personal interests and goals. It was a one-of-a-kind opportunity!"
As an NSSP Scholar, L'Ouverture has also traveled to China and was selected to present at IC conferences in D.C., El Paso and Atlantic City.
He encourages other students to apply to programs that will help them fulfill their dreams. "I know how intimidating applying to programs such as the NSSP Scholars can be," says L'Ouverture. "But I now know that NSSP staff are first class and that they will do everything possible to help us reach our potential."
He continues, "From day one, I felt part of the community. They took a chance on me and I am very grateful for everything I have had the opportunity to do!"
L'Ouverture says that the law school's Department of Student and Career Services is now collaborating with NSSP.  He is impressed by the number of services offered by the law school and laughs, "They do too much! I'm not used to it!"
L'Ouverture gets more serious and adds, "I've had many opportunities, and have had help every step of the way."
"It is a true joy for us to work with our students who, like Vladimir, are sincere in their desire to make a meaningful difference," says Heather Harrigan, Assistant Dean for Student and Career Services. "We provide support along the way, but these students consistently demonstrate a commitment to growth that allows them to create opportunities for themselves.  It is exciting to be a part of it and see the amazing work they do."