Welcome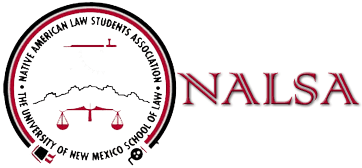 We are an active community of Native and  non-Native law students committed to promoting the study of law by Native Americans. We also promote the study of and development in Indian Law and are committed to the recruitment, retention, and success of Indian students.
NALSA is a wonderful community. While promoting professional development in the law, we also serve as asupport group where life-long friendships are established.
Membership Requirements
Any currently enrolled UNM law student may join NALSA. Non-Indian members are designated "associate members." All members of NALSA have the same benefits of membership.
Membership dues are $20 and should be paid to the NALSA treasurer at the beginning of the academic year. Checks are to be made out to UNM NALSA.