UNM Law Semester in DC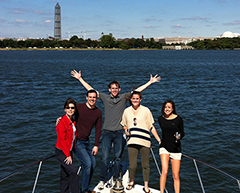 The Washington, DC Metro Area boasts the largest group of School of Law alumni outside the state of New Mexico. Our DC area alumni are very connected and engaged with the Law School despite the geographic distance.
In the UNM Law Semester in DC, students are paired with 2-3 mentors who meet with students and provide invaluable guidance.
Students are also invited to various professional and social events and happy hours throughout the semester, providing even more opportunities to interact with alumni.
Several alumni regularly lend their time and expertise to the program. Class speakers have included former professor Norman Bay, Francisco "Paco" Perez ('08), Capt. David Iglesias ('84), Anne Noel Occhialino ('98), Michael Connolly ('93), Sumita Mukhoty ('88), and Denise Coca ('96). Jane Cavanaugh ('95) and Ann Claassen ('89) have been exceptionally dedicated to the program and its students.
There is a truly wonderful and impressive community of UNM law graduates in the Washington, DC area, who are eager to give back to the law school by way of helping our students that are in the Nation's Capital. Our alumni have been instrumental in ensuring that students participating the DC Program feel welcome, become easily acclimated to the city, and are well- supported. The law school has a significant presence in the Washington, DC metro area, and our mark on national policies and legal developments there will only increase as our program continues to grow and attract eager students to participate fully in all it has to offer.