Child & Family Justice Initiative
In 2016, the UNM School of Law received a grant from the W.K. Kellogg Foundation to establish the Child & Family Justice Initiative ("CFJI"). The goal of the CFJI is to pursue justice and racial equity for New Mexico's most vulnerable children and families by training a new generation of lawyers who will fight for these values. Join us in achieving this goal by giving now.
---
Background
In 2014, the UNM School of Law received a Planning Grant from the W.K. Kellogg Foundation with the goal of designing an initiative to improve outcomes by addressing racial inequities and other social determinants of health.
We began with a discovery phase that was broad in scope.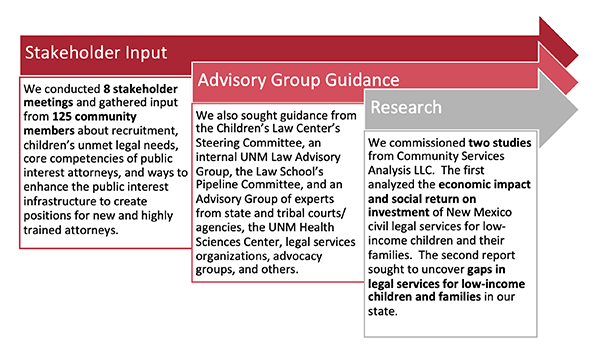 We were grieved to learn of the reality faced by low-income children and their families as they navigated NM's legal system.
Yet, we were met with hope as we learned that civil legal services for low-income children and families indeed have an enormous impact and are cost-effective.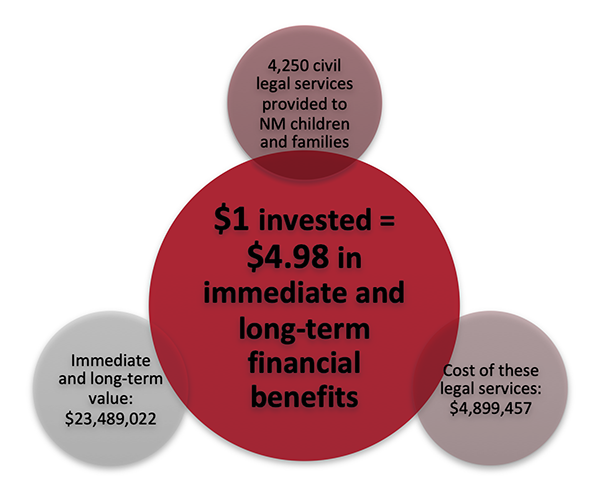 498% SOCIAL IMPACT RETURN ON INVESTMENT
Fiscal year that ended June 30, 2014.
Our discoveries led us to the following conclusions, and, thus, the Child & Family Justice Initiative was born!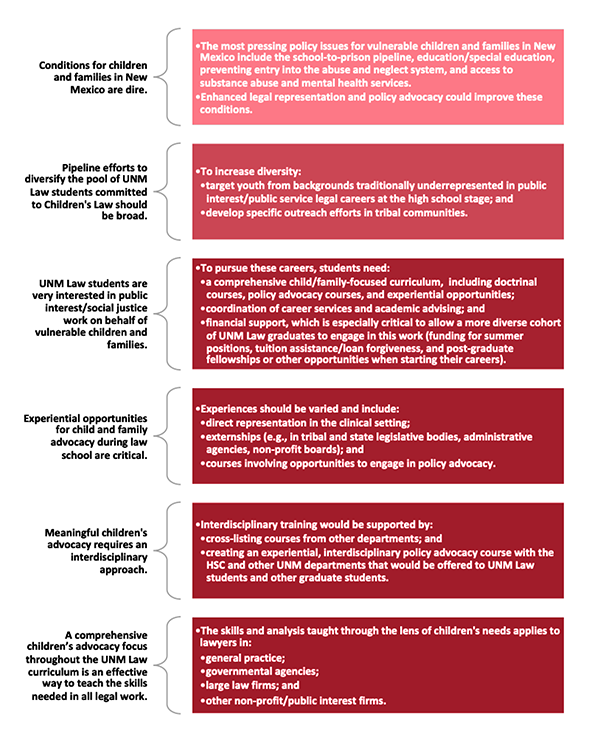 Committee Charge
The CFJI Program Committee shall monitor the Law School's responsibilities under the grant and advise the Dean about those responsibilities. The committee shall be responsible for preparing any and all annual reporting that may be required in connection with the grant and will also:
educate the public about the program and the importance of preparing students for higher education and professional education in New Mexico;
work collaboratively with the Law School's Marshall-Brennan Program as well as with other units on campus and in the community engaged in pipeline activities; and
consider ways to involve the Native American Community Academy (NACA) in the committee's pipeline efforts.
Support
Dear friend,
Believe me when I say that this work hits close to home.
My mother grew up in Las Vegas, NM as the 11th of 14 children. My father grew up in Lordsburg, NM as the 5th of 10 children. Despite growing up on the lowest end of the socioeconomic spectrum, both of them are first-generation middle school, high school, and college graduates. Both of them have enjoyed long careers and are eligible for retirement. Both of them are statistical anomalies, and it's time to change that.
When I think of children and families in New Mexico, I think of my mother and father. If they could beat the statistics, then surely as a state we can change the statistics. That's where the Child & Family Justice Initiative comes into play. We are New Mexico's Law School serving New Mexico's people.
It would be my privilege to tell you more about the Child & Family Justice Initiative and how you can be a part of this life-changing effort! Please contact me via messenger on Facebook, via email at guardiola@law.unm.edu, or by phone at 505-277-9065.
Sincerely,
Sal Guardiola II ('18)
Relations & Engagement Manager
Would You Like More Information?