Our Story
Background
In 2014, the UNM School of Law received a Planning Grant from the W.K. Kellogg Foundation with the goal of designing an initiative to improve outcomes by addressing racial inequities and other social determinants of health.
We began with a discovery phase that was broad in scope.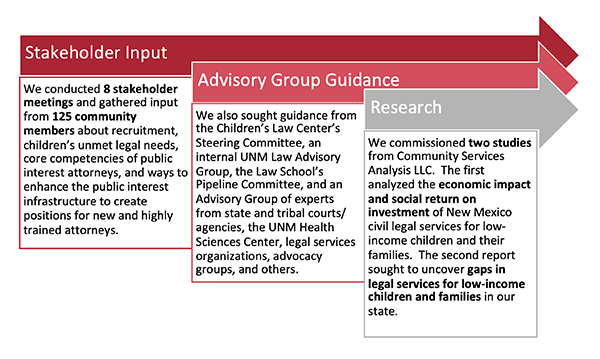 We were grieved to learn of the reality faced by low-income children and their families as they navigated NM's legal system.
Yet, we were met with hope as we learned that civil legal services for low-income children and families indeed have an enormous impact and are cost-effective.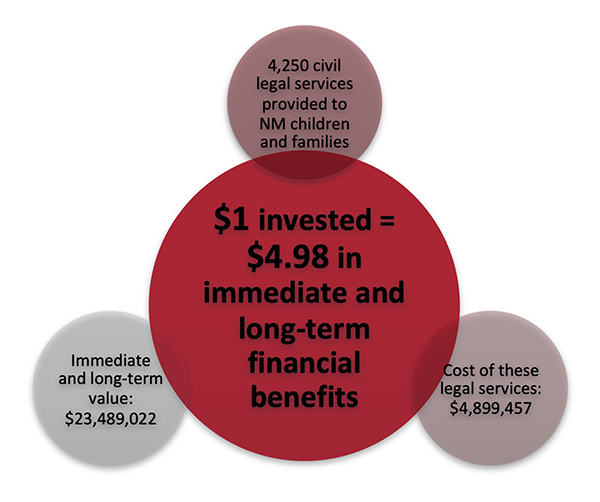 498% SOCIAL IMPACT RETURN ON INVESTMENT
Fiscal year that ended June 30, 2014.
Our discoveries led us to the following conclusions, and, thus, the Child & Family Justice Initiative was born!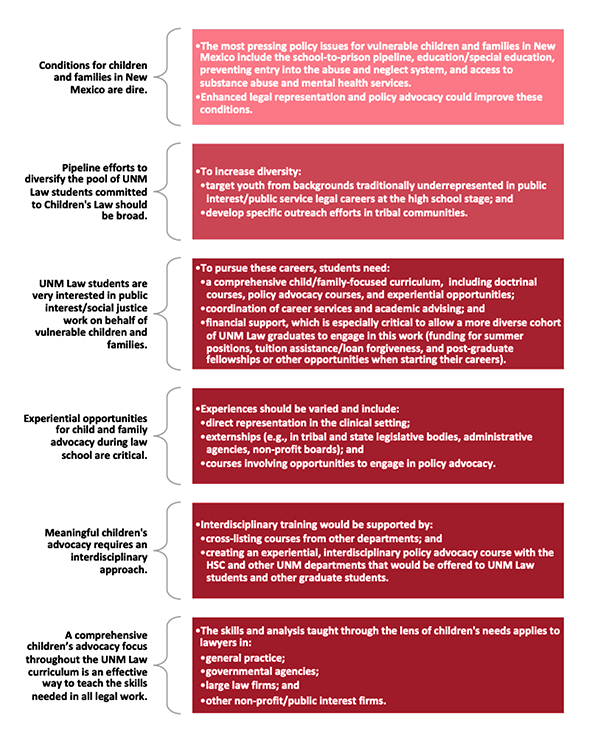 CFJI Committee Members
Beth Gillia (Co-Chair), Corinne Wolfe Center for Child & Family Justice Director and Senior Attorney
Sarah Steadman (Co-Chair), Child & Family Justice Clinic Professor
Maryam Ahranjani, Associate Professor and Don L. & Mabel F. Dickason Professor
Cristen Conley, Corinne Wolfe Center for Child & Family Justice Staff Attorney
Deanna Creighton, Master of Studies in Law Student
Michael Ruble, Medical-Legal Alliance Program Planning Manager
Alexandra Siek, Law Library Public Services Coordinator, Senior Lecturer
Sherri Thomas, Associate Dean of Institutional Climate and Equity, Law Library Assistant Director, Professor of Law Librarianship
Committee Charge
The CFJI Committee shall monitor the Law School's responsibilities under the grant and advise the Dean about those responsibilities. The committee shall be responsible for preparing any and all annual reporting that may be required in connection with the grant and will also:
educate the public about the program and the importance of preparing students for higher education and professional education in New Mexico and
work collaboratively with the Law School's Marshall-Brennan Program as well as with other units on campus and in the community engaged in pipeline activities.