Professor Maryam Ahranjani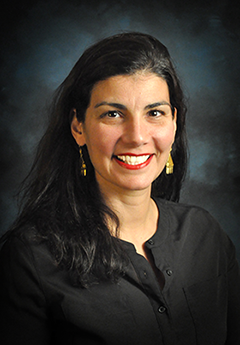 Associate Professor and Don L. & Mabel F. Dickason Professor
LLM, University of Pennsylvania Law School
JD, American University Washington College of Law
BSEd (magna cum laude in Social Policy), Northwestern University
Member, District of Columbia Bar
Profile
Selected as the 2019-2020 New Faculty of the Year at the University of New Mexico, Professor Maryam Ahranjani is teaching or has taught Criminal Law, Constitutional Rights, Criminal Procedure I, Education Policy, and Criminal Sentencing. She serves as faculty advisor to the Marshall-Brennan Constitutional Literacy Project and Immigration Law Student Association.
Prior to joining the faculty at in 2016, Professor Ahranjani served as an international legal consultant in Guatemala City. While in Guatemala, she taught at La Universidad del Istmo and worked with the American Bar Association's Rule of Law Initiative, U.S. Department of State, and U.S. Agency for International Development on rule of law projects related to civic education, human rights and youth migration. She also previously taught and worked at American University Washington College of Law (directing the National Marshall-Brennan Constitutional Literacy Project and the Program on Law and Government), the University of Pennsylvania Law School, and several law schools in Latin America.
A recognized expert on access to education, Professor Ahranjani has authored numerous book chapters, law review articles, and other articles. Co-author of the textbook Youth Justice in America (2nd ed. 2014), her work has appeared in The Journal of College and University Law, Hofstra Law Review, South Carolina Law Review, Denver University Law Review, American University Journal of Gender, Social Policy & the Law, and The Washington Post.
Professor Ahranjani won the 2019 Steven S. Goldberg Award for Distinguished Scholarship from the Education Law Association. Her most recent law review article, which is titled "Toughen Up, Buttercup" vs. #TimesUp," will be published in late 2020 in the Berkeley Journal of Criminal Law. She is also working on a book chapter exploring the purposes of education for a forthcoming text called the Legal Foundations of Education.
Professor Ahranjani currently serves as the Reporter of the ABA Women in Criminal Justice Task Force, the Chair of the AALS Section on Education Law, and an appointed member of the ABA Standing Committee on Public Education.
In the News
Publications
Books & Book Chapters
Youth Justice in America (2014) (co-authored with Andrew G. Ferguson and Jamin B. Raskin).
Available at: UNM-DR
High School to Law School: Marshall-Brennan and Moot Court, The Education Pipeline to the Professions: Programs that Work to Increase Diversity (Sarah E. Redfield ed. 2012).
Available at: UNM-DR
The Marshall-Brennan Constitutional Literacy Project: A Case Study in Law and Social Justice, Childhood, Youth, and Social Work in Transformation: Implications for Policy and Practice (Lynn M. Nybell et al. ed. 2009).
Available at: UNM-DR
Articles
Universities as "Sanctuaries," 44 J. C. & U.L. 1 (2018).
Available at: UNM-DR
The Prisonization of America's Public Schools: Prioritizing "Security" over Privacy, 45 HOFSTRA L. REV. 4 (2017).
Available at: UNM-DR
Evaluating High School Students' Constitutional and Civic Literacy: A Case Study of the Washington, DC Chapter of the Marshall-Brennan Constitutional Literacy Project  90 D.U. L. REV. 917 (2013) (co-authored with Jeffrey J. Shook and Caleb Medearis).
Available at: UNM-DR
Can They Do That to Me?! Does the 8th Amendment Protection Children's Best Interests? 63 S.C. LAW REV. 403 (2011).
Available at: UNM-DR
Mary Daly v. Boston College: The Impermissibility of Single-Sex Classes in Private Universities, 9 AM. U.J.G. SOC. POL'Y & L. 179 (2001).
Available at: UNM-DR
Bar & Trade Publications
Developing Youth Voices, CLEO EDGE 52 (Winter/Spring 2020).
Available at: UNM-DR
Listening Session Participants Express Feelings of Isolation – and Demonstrate Resilience, CRIM. L. 52 (Fall 2019).
Available at: Criminal Justice
What Does Immigration Status Have to do with Law School, CLEO 50 (2018).
Available at: UNM-DR
Popular Press
Immigration Trends in the D.C. Area and What They Mean for Public Education, THE WASHINGTON POST (July 9, 2004).
Teaching Resources
We've Got Letters: Three Integrated Curriculum Guides For The Washington Post Newspaper In Education Program, 17 THE WASHINGTON POST (2017).
Available at: UNM-DR
Available at: We've Got Letters
National Constitution Day Teaching Modules, BAND OF RIGHTS (2005-2013).
Available at: UNM-DR
Available at: Band of Rights
Law School News