Professor Eileen Gauna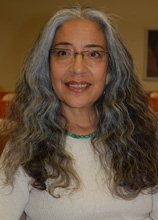 Emeritus Professor of Law
B.U.S. 1976, J.D. 1985; The University of New Mexico
Member of the New Mexico Bar
Profile
Eileen Gauna joined the UNM law faculty in 2006 and retired in July 2016, although she continues to teach courses. She brings experience in the national environmental policy arena to her teaching. Professor Gauna is a member of the American Law Institute, a member scholar of the Center for Progressive Reform and is the Dean Designate to the New Mexico Compilation Commission.
Professor Gauna's scholarship is primarily about environmental justice issues; she co-authored a widely used course book in the area. She worked closely with agencies, educational institutions, non-profits and environmental justice organizations throughout United States. She had several tenures on the EPA's National Environmental Justice Advisory Council where she worked collaboratively with a range of stakeholders to submit reports and recommendations to the EPA Administrator, and completed her tenure on an EPA federal advisory committee that examined the applicability of Title VI of the Civil Rights Act to environmental permitting. She testified before Congress and was invited to speak at the White House Forum on Environmental Justice. She was a consultant to the New Mexico Environment Department in connection with its environmental justice initiative and co-authored two reports to the Secretary.
Professor Gauna, a New Mexico native, began her legal career in 1985. After a judicial clerkship with Justice Mary C. Walters of the New Mexico Supreme Court, she worked with the Poole law firm in Albuquerque until 1991 when she was appointed to the faculty at Southwestern Law School in Los Angeles. She has taught courses in environmental law, environmental justice, climate law, energy law, administrative law, and property.
Publications
Books
Rechtschaffen, Gauna and O'Neill, Environmental Justice: Law, Policy and Environmental Protection (2nd Ed. 2009).
Selected Articles and Book Chapters
Federal Environmental Justice Policy in Permitting, in A False Promise of Justice: Evaluating the Federal Government's Response to Environmental Equity (David M. Konisky, ed., MIT Press Forthcoming 2014).
Environmental Law, Civil Rights and Sustainability: Three Frameworks for Environmental Justice,19 J. Envtl & Sustainability Law, 34 (2012).
Selected Symposium Addresses, Reflections on Environmental Justice, Special Issue on Environmental Justice and the Law, 81 Mississippi Law Journal 657 (2012) (symposium sponsored by ABA SEER and Univ. of Miss Law School).
El Dia de los Muertos, the Death and Rebirth of the Environment Movement, 38 Environmental Law, Issue 2 - Special Issue on Environmental Justice, 457)(2008).
LNG Facility Siting and Environmental (In)Justice: Is it Time for a National Siting Scheme?2 Envtl. & Energy L. & Pol'y J. 85 (2007).
Environmental Justice, A Center for Progressive Regulation White Paper, http://www.progressiveregulation.org/ (2005) (co-authored).
Environmental Justice in a Dryland Democracy: A Comment on Water Basin Institutions, in Wet Growth, Should Water Law Control Land Use? (2005).
An Essay on Environmental Justice: The Past, the Present, and Back to the Future, 42 Nat. Resources J. 701 (2002).
Farmworkers as an Environmental Justice Issue: Similarities and Differences, 25 Environs 67 (2002).
EPA at Thirty: Fairness in Environmental Protection, 31 Environmental Law Reporter 10528 (2001).
A Survey of Federal Agency Responses to President Clinton's Executive Order Number 12898 on Environmental Justice, 31 Environmental Law Reporter 11133 (2001) (co-authored).
The Environmental Justice Misfit: Public Participation and the Paradigm Paradox, 17 Stanford Environmental Law Journal 3 (1998).
Major Sources of Criteria Pollutants in Nonattainment Areas: Balancing the Goals of Clean Air, Industrial Development, and Environmental Justice, 3 Hastings West- Northwest Journal of Environmental Law and Policy 379 (1996)
Federal Environmental Citizen Provisions, Obstacles and Incentives on the Road to Environmental Justice, 22 Ecology Law Quarterly 1 (1995) (lead article) (Included in 1996 Land Use & Environment Law Review's list of 30 best articles of the year in the environmental and land use area).