Commencement
Saturday, May 14th, 1:00 PM
UNM School of Law, Back Patio
Keynote Speaker
Judge Linda Vanzi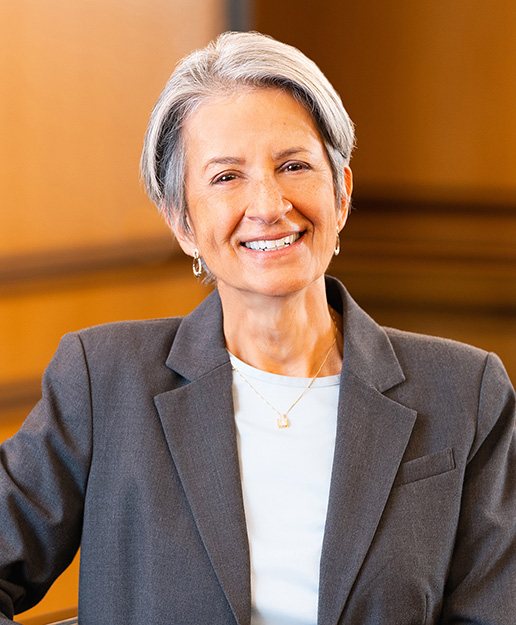 Linda Vanzi retired from the New Mexico Judiciary in 2020, after serving for four years as a trial judge at the Second Judicial District Court, Civil Division, and for 12 years as a judge on the New Mexico Court of Appeals. Not content to retire altogether from the legal career she has enjoyed since graduating from the UNM School of Law in 1995, Judge Vanzi joined the Rodey Law Firm in 2021, where she conducts mediations in addition to practicing as a member of the Firm's Civil Rights, Employment, and Complex & Commercial Litigation Groups. Judge Vanzi also serves as Chair of the Supreme Court Client Protection Fund Committee and as a member of the ACLU Legal Panel. Throughout her career, Judge Vanzi has remained in close contact with the Law School in several ways, including by frequently teaching courses, serving as a judge for student trials and moot courts, and working with students she hired as externs and graduates she hired as law clerks.
Commencement Overview
We are pleased to resume in-person commencement exercises.  This commemorated celebration is held once a year at the School of Law at the end of the Spring Semester. Although Juris Doctor and Master of Studies in Law Degrees are conferred three times per year, at the conclusion of the Spring, Summer, and Fall semesters, graduating students of any semester are welcome to participate.
Graduates and their guests may also choose to attend the Main Campus Commencement Ceremony, which will take place at 9:00am on Saturday, May 14, 2022 in the University Arena (aka the Pit). Attendance at this ceremony is optional.
Regalia
Tams, gowns, and hoods, required dress at graduation, may be purchased through the UNM Bookstore. For more information, including cost, visit the UNM Bookstore  webpage. The SBA has a limited number of tams and gowns available to loan. Information about the opportunity to borrow regalia will be provided to you by SBA officers.
Honor cords for magna cum laude, summa cum laude and cum laude are not worn at UNM School of Law because honors are based on all grades, including those for spring of the graduating year which do not become available until after graduation.
Photographs
A professional photographer will capture photos of the event. Family members are welcome to take photos but are asked to please refrain from blocking the view of audience members and professional photographers.
Commencement Exercises
Honors and Awards Ceremony
The Honors and Awards ceremony along with the SBA Woody Awards will take place on the North Lawn of the Law School on Friday, May 13, 2022. Awards presentations begin at 2:00pm. All students and faculty are permitted to attend in-person.
Graduation
Specific details of the processional will be emailed to expected graduates.
Upon arrival you will be given a name card with your full name printed on it.  You will carry your hood and your name card with you in the processional.  The processional of students is led by the SBA President followed by graduates.  You may walk with and sit with whomever you choose. 
Keep in mind the temperature tends to be a little warm by mid-May and you will be wearing black robes, we suggest you wear something fairly light underneath. Graduates are asked to be especially careful in selecting their shoes for the occasion because you will be walking across the grass area which may be soft and wet.
All graduates and faculty participating in the ceremony must wear regalia.
When it is time for the hooding to begin, the SBA President will take their position with the faculty hooders. As you move to the "stage" you will first hand your name card to the faculty member who is reading names. You will proceed to shake hands with the SBA President, then hand your hood to whichever faculty member is available. If you are not comfortable being hooded by a professor, place your hood over your head yourself. The final step is to stand with the Deans and have your photo taken before returning to your seat.
There will be staff directing the process and it is important to follow their direction to ensure that the ceremony moves smoothly and that photographers are able to capture each graduate as they are hooded and as they stand with the Deans.
Spectators
Spectators may view the commencement exercises by visiting the Law School YouTube channel. The stream will begin 10 minutes prior to the event start time and will require you to refresh the webpage in order to make it update when the stream goes live.