Institute of Public Law
Legal Practice and Training Center
The Institute of Public Law (IPL) provides services and expertise in civics education, continuing legal education and student training through its Legal Practice and Training Center.
Civics Education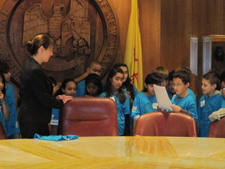 Training students in citizenship skills is essential to our society. In partnership with local, state, federal and private organizations, the Institute of Public Law has produced an award-winning program, Wild Friends, as well as NM WOW (Working on Wildlife), dedicated to helping students in grades 4-12 learn about law by facilitating youth participation in the democratic process. The compelling issue of wildlife conservation has motivated students to define and research problems they care about, learn how laws are made, draft real legislation, meet lawmakers and other public officials, attend legislative sessions to support their issues, write letters, testify before legislative committees, and speak at press conferences and public meetings. In addition, students have created original artwork, dances, operas, plays, poetry, television news programs, documentaries, and videos to convey their concerns to the public and officials.
Continuing Legal Education
IPL provides oversight for the Continuing Legal Education (CLE) programs offered at the UNM School of Law.  For more information about these programs, see www.lawschool.unm.edu/cle.
Student Training
IPL offers a student training program for students at the UNM School of Law, ranging from externships to paid positions.  Students can choose a center of primary interest, or the student can rotate through two or more of IPL's centers (Judicial Education Center, Children's Law Center, Legal Programs and Training Center).  The student training program offers law students desiring experience in public interest law a unique opportunity for meaningful contributions and exposure to the New Mexico judiciary, legal community, public schools and state agencies.
Policy Development
IPL, in partnership with Arizona State University, serves as the Western Region for the Network for Public Health Law, a Robert Wood Johnson Foundation project. The project, a national network providing technical assistance, training, and other activities, provides assistance to such entities as tribes seeking information about how the law can be used to protect public health, along with trainings and public health law seminars.
Note: The Center for Wildlife Law, founded in 1990 with a vision of enhancing education, information, and analysis regarding wildlife law and policy, closed its doors on July 31, 2011 after 21 years at the UNM School of Law's Institute of Public Law.  Please direct any questions to Susan George at IPL (sgeorge2@unm.edu; (505) 277-5089).