Mediation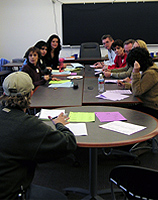 The UNM School of Law Mediation class is one of the oldest, and most-respected, 40-hour training classes in mediation offered by any law school. It has been a chief model for mediation education and it continues to evolve to meet the needs of the ever-expanding place that mediation is taking in society. The course is offered over two weekends, three times a year - during fall, spring, and summer semesters - and combines law students with community members, including lawyers, judges, therapists, law enforcement officers, managers from private and public entities, and others from diverse backgrounds, who want to have a better command of how to understand and manage conflict constructively. The course is designed to improve the mediation skills and knowledge of participants, and hands-on methods are used to introduce, model and allow students to try best mediation practices. The class draws on experienced mediators who serve as coaches for students as they engage in simulated mediations.  NOTE:  This is not a settlement facilitation course, although mediation skills can be highly useful in that setting.
Materials
All course materials are included in the cost of the registration. UNM law students may purchase their texts at the UNM Legal Bookstore.
Cost
The cost for the course is $1195, which includes registration of reportable MCLE credits, workbook, parking and light refreshments. Payment can be made on UNM law under Registration by credit card. Class sizes are limited.
Refunds
If you cancel your registration more than two weeks prior to the start of a program, your entire tuition will be refunded, less a $50 processing fee. If you cancel your registration within two weeks of the start of the program, no refunds will be given, unless UNM School of Law is able to fill the slot (at UNM School of Law's discretion), in which case your entire tuition will be refunded, less a $50 processing fee.
CLE Credit
For legal professionals, this mediation training is certified for 30 MCLE credits (28 general, 2 ethics/professional). A total of 40 hours of classroom credit may allow lawyers to seek mediation certification in those states that require certification.