Delving into Natural Resources/Environmental Law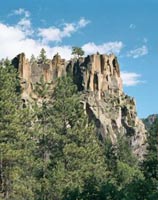 UNM awards the Natural Resources and Environmental Law (NREL) Certificate to graduating students who have completed certain requirements on their way to earning the J.D. degree.  Completing these requirements shows that a student has gained important knowledge and experience by focusing his or her studies on NREL issues.  A student who graduates with the NREL Certificate has shown serious interest in this field, and has established a solid foundation for practicing environmental or natural resources law.
Many NREL Certificate graduates from UNM have landed important jobs in this field of law.  For example, our recent graduates have been hired by the U.S. Interior Solicitor's Office in Washington, DC (through the agency's Honors Program); the New Mexico Wilderness Alliance; the Rocky Mountain Mineral Law Foundation; the City of Albuquerque (for the new position of Sustainability Officer); state agencies including the Attorney General's Office and the Environment Department; and leading law firms in New Mexico and beyond.  The NREL Certificate is certainly no guarantee of employment success, but it has helped many of our graduates find good work.
Earning the Certificate requires completion of 21 credits of courses relating to NREL.  Students generally can choose from a range of relevant courses, but must take at least two of the core courses (Administrative Law, Environmental Law, Natural Resources), which are offered once a year.  Students must also complete either a writing seminar or a drafting course within the NREL field; there is generally one of each in both the fall and spring semesters.  In addition, students must fulfill an experiential component by completing at least two from a menu of six items.  One of these items is the NREL Clinic, good for 6 credits, whereby most NREL Certificate students fulfill UNM's mandatory clinic requirement.  Other items on the "experiential" list include service on the Natural Resources Journal, participation on UNM's national environmental moot court team, or an externship involving work on NREL issues.