Business Law Society Constitution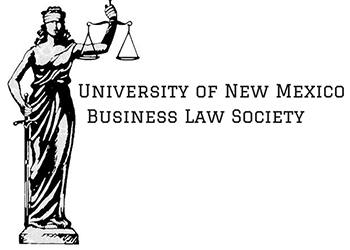 Mission Statement
The UNM Business Law Society is a graduate/professional student organization encouraging participation by all members of the University community. The organization provides a forum to exchange ideas for students interested in business law. It introduces members to practitioners in the field of business law and provides networking opportunities within the business community. UNM BLS advocates corporate social responsibility, ethical management practices, and community involvement. The organization will foster social interaction for students by sponsoring gatherings and recreational activities. It will coordinate events/lectures and work closely with the UNM Anderson School of Management.
Eligibility
Membership is open to all current members of the UNM community including undergraduate, graduate, and professional students. Annual membership dues: $10.00.
Meetings/Rules of Procedure
Meetings will be conducted at least once a year and as often as determined by the executive committee. The organization follows Robert's Rules of Parliamentary Procedure.
Voting
A simple majority conducted by general consent, hand, or ballot methods are observed.
Amendments
Amendments are voted upon by a 2/3 majority; the motion as amended requires a 2/3 majority. The amendment must be appurtenant to the motion to be amended.
This constitution was reviewed on August 31, 2006.