Women's Law Caucus Welcome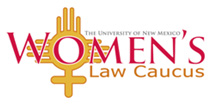 The Women's Law Caucus welcomes you to the University of New Mexico School of Law. The purpose of this organization is to promote an understanding of issues encountered by women in the community and in the law school environment, to foster law student involvement in the community, and to promote women's issues and needs in the field of law.
Justice Mary Walters Award
Please join us for the 2018 Justice Mary Walters Awards Dinner, honoring Nancy Hollander and Professor Christine Zuni Cruz, on Wednesday, March 21 at 5:30 pm at the UNM Student Union Building (Ballroom C).