Office of the Dean
Dean Camille Carey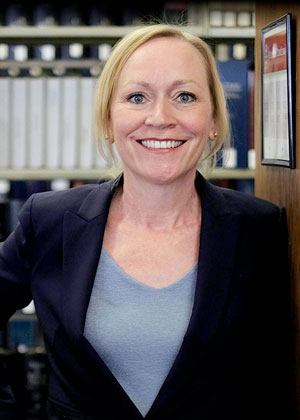 Dean Camille Carey joined the UNM law faculty in 2009. Carey began her teaching career at Yale Law School, where she was a Robert M. Cover Teaching Fellow and Clinical Lecturer. She also established and taught the Domestic Violence Clinic. Carey's teaching and research interests include tort law, domestic violence, feminist legal theory, immigration, experiential education, and clinical legal education. She is currently conducting a qualitative and quantitative study of the experiences of domestic violence tort plaintiffs to identify whether pursuing a domestic violence tort claim against an abuser provides therapeutic, financial, and deterrence benefits.
Mission
Our mission is to educate and train students to become excellent lawyers who will enrich and serve local, state, tribal, national and international communities after graduation. We seek to maintain our long tradition of opening access to the profession. We also seek to make legal education more broadly available by educating practicing attorneys and non-lawyers in New Mexico. We endeavor to focus our resources on some of New Mexico's most pressing legal needs through educational, research and service programs of national and international prominence. These goals track the University's overall vision and mission to offer New Mexicans and others access to high quality educational, research and service programs; to operate as a significant knowledge resource for New Mexico, the nation, and the world; and to foster programs of international prominence that will place UNM among America's most distinguished public research universities.
(Approved by the Law Faculty in 2007)
Bar Passage
Uniform Bar Exam and UNM Bar Passage Rate
New Mexico has adopted the Uniform Bar Exam (UBE) and has experienced a decline in bar passage rates due to significant changes in the exam. As a law school community, we are coming together in support of our students and graduates who are preparing for this exam. In addition to discussion with the State Bar Committee on Diversity in the Profession on the topic of increased resources and support, here are the UBE bar preparation and passage support services the law school offers to students:
Offering of two 1-credit, pass/fail bar strategies courses
Providing a free commercial bar strategies supplement
Offering funds for students who need help covering the cost of a commercial bar course
Providing incentives to complete at least 75% of prep courses
Increasing discussions with students regarding testable subjects and related course planner
Providing opportunities for students to hear from bar exam graders
Providing opportunities for the Executive Director of the New Mexico Board of Bar Examiners (NMBBE) to speak with students
Presenting lectures and discussions regarding testable subjects provided by practice area experts, including Professors Ted Occhialino and George Bach and Director of Academic Success Beth Kaimowitz
Bar Passage Next Steps
Short-term steps currently include:
Leveraging alumni expertise, resources, and coaching
Adding the bar preparation program developed by UNM Law graduate Mario Mainero, Professor of Academic Achievement and Director of Bar Services, Chapman University. https://www.chapman.edu/our-faculty/mario-mainero
Examining our faculty's role(s) (underway): Incorporation of bar exam materials in teaching, crafting bar-style questions, cautioning against open-book exams
Tracking and analyzing related data for use in creation, evaluation, and modification of services
Collecting information regarding curriculum offered by commercial bar prep companies that can be integrated into juris doctor program
Providing information to curriculum committee and related committees for consideration of potential curricular changes
Long-term steps currently include:
Development of a bar preparation and bar passage outcomes taskforce, to include previous UBE graders and others to be charged with analyzing current results and strategically designing a responsive program
Additional details and updates on progress will be posted below as they become available.
For more information contact the Office of Student & Career Services.