Lecturer: Professor Alvaro Bedoya, Founding Director, Center on Privacy & Technology at Georgetown Law
Lecture: "Privacy and Civil Rights in the Age of Facebook, ICE, and the NSA"
Parking at the event is FREE in the Law School "L" parking lot starting at 4:00 p.m.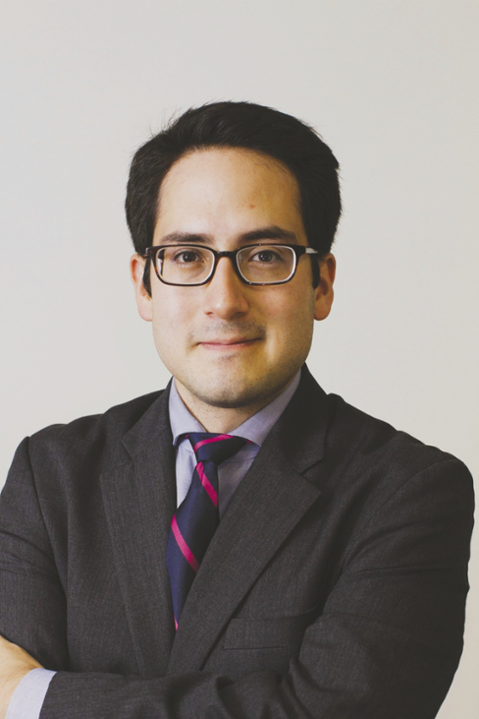 ---
This lecture/symposium series has been established to celebrate and keep alive the extraordinary legacy of Dennis Chavez, one of New Mexico's most influential U.S. senators during the mid-20th century. Sen. Chavez was a remarkable New Mexican, a populist from the South Valley who served a noteworthy and significant term in the U.S. Senate from 1935 until his death in 1962. He is remembered as a pivotal and early advocate of civil rights legislation.
---
"Half a century after his death, Dennis Chavez's life and legacy are a powerful reminder that the struggle for civil rights and social justice and against discrimination is always with us. And that no matter how unpopular, we must always have the courage to raise our voices to speak to truth and stand up for the rights of others."
Alvaro Bedoya
Alvaro Bedoya is the Founding Director of Georgetown Law's Center on Privacy & Technology. He is an expert on digital privacy issues, including government surveillance and commercial data collection, with a focus on their impact on immigrants and people of color. Prior to joining Georgetown Law, he served as Chief Counsel to the Senate Judiciary Subcommittee on Privacy, Technology and the Law and to its Chairman, Senator Al Franken (D-Minn.). In this capacity, he advised Senator Franken in crafting legislation and conducting oversight on mobile location privacy, health data privacy and NSA transparency and worked to improve privacy protections for biometric technology like facial recognition and fingerprint readers. He also advised the Senator on civil rights, immigration, and intellectual property matters, and served as his lead advisor in the Supreme Court confirmation hearings of Sonia Sotomayor and Elena Kagan.
Before joining the Senate, Prof. Bedoya was an associate at Wilmer, Cutler, Pickering, Hale and Dorr LLP, and served as a research consultant for the International Labor Organization's Special Action Program to Combat Forced Labor. He is active in his community, and serves on the Board of Advisors of the Esperanza Education Fund, a status-blind college scholarship for immigrant students in D.C., Virginia and Maryland, that he co-founded in 2009. He formerly served on the Board of Directors of the Hispanic Bar Association of Washington, D.C.
He is a graduate of Harvard College and Yale Law School, where he received the Paul & Daisy Soros Fellowship for New Americans and was an editor of the Yale Law Journal. You can follow him on Twitter at @alvarombedoya.
The Endowment
In Fall 2009, the Dennis Chavez Foundation and its representatives, Gloria C. Tristani, Jorge E. Tristani, Jr., and Gloria M. Tristani (`90), established an endowment for a lectureship/symposium on Law and Civil Rights, designed to promote awareness and academic discourse of U.S. Senator Dennis Chavez and topics related to his legacy and life's work.
A gift of $100,000 created the opportunity to invite preeminent scholars to deliver an annual public lecture on Law and Civil Rights, the life work of Senator Dennis Chavez or related topics of human rights, equal opportunity, Hispanics and New Mexico in government, law and politics and their impact on human welfare.
El Senador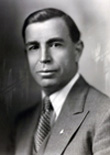 Dennis Chavez grew up the Barelas neighborhood of Albuquerque in a Spanish-speaking household in the late 1800s. It was during those early years that he developed an internal foundation that would drive him and guide him for the rest of his life.
The second oldest of eight children, Chavez left school at 13 to help support the family. During his six-day-a-week job delivering groceries for Highland Grocery Store, he witnessed disturbing inequities in class and race. His time off was spent at the public library immersing himself in U.S. history.
Before he could vote, Chavez became involved with the Democratic Party. His exceptional ability to communicate with the state's Spanish-speaking voters so impressed A.A. Jones during his 1916 U.S. senatorial campaign that Sen. Jones invited Chavez to join his Washington, D.C. staff. Determined to become a lawyer, Chavez took evening law classes at Georgetown Law School and earned his law degree in 1920, spending his days on Capitol Hill.
Chavez returned to Albuquerque to set up a law practice, but his future was in the political arena. After one term in the New Mexico Legislature, he served two terms in the U.S. House of Representatives. In 1935, he became the only Hispanic in the U.S. Senate, where he served until his death in 1962, establishing himself as an advocate of civil and human rights.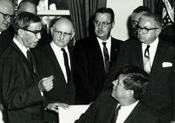 Chavez also was concerned with the development of resources in the West. He actively supported measures such as water and soil conservation programs and rural electrification. He introduced many bills to protect Indian lands, citizenship, voting rights and self determination.
Chavez conferred with every president from Hoover to Kennedy, and ultimately became one of the most powerful members of Congress, but when he returned home to New Mexico, he always delighted in the opportunity to visit with his constituents. And he never forgot his humble roots.