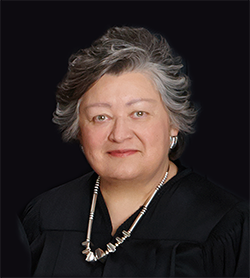 Speaker: The Honorable M. Christina Armijo, Chief Judge of the United States District Court for the District of New Mexico
Lecture: The Legacy of Senator Dennis Chavez: Choices, Challenges and Consequences, and His Courage and Resolve in Safeguarding the Rights of Individuals
---
This lecture/symposium series has been established to celebrate and keep alive the extraordinary legacy of Dennis Chavez, one of New Mexico's most influential U.S. senators during the mid-20th century. Sen. Chavez was a remarkable New Mexican, a populist from the South Valley who served a noteworthy and significant term in the U.S. Senate from 1935 until his death in 1962. He is remembered as a pivotal and early advocate of civil rights legislation.
---
"Half a century after his death, Dennis Chavez's life and legacy are a powerful reminder that the struggle for civil rights and social justice and against discrimination is always with us. And that no matter how unpopular, we must always have the courage to raise our voices to speak to truth and stand up for the rights of others."
Honorable M. Christina Armijo
The Honorable M. Christina Armijo, Chief Judge of the United States District Court for the District of New Mexico, was appointed to the United States District Court in 2001, after unanimous confirmation by the United States Senate. She has served as Chief Judge since 2012. Prior to joining the federal bench, she served on the New Mexico Court of Appeals from 1996 to 2001. When she was appointed to the Court of Appeals she became the first Latina to serve in any appellate court in the State of New Mexico. She is a 1975 graduate of the University of New Mexico School of Law.
Chief Judge Armijo presides over a federal District which ranks first in the Tenth Circuit and tenth in the US with respect to weighted filings (including both civil and criminal cases). The District of New Mexico maintains the highest criminal felony caseload among the five Border federal districts.
During her tenure as Chief Judge, she has overseen the selection of seven full-time and two part-time United States Magistrate Judges and a Chief Probation Officer. For the past five years she has been involved in structuring a significant national space reduction/space realignment project in the District of New Mexico. The final design and procurement phases are now complete for the US Bankruptcy Court's relocation to the Pete V. Domenici Courthouse. This project aligns with the Administrative Office's national space reduction initiative and will save the Judiciary approximately $1 million annually on rent and security costs by decreasing the size of the District's footprint. This project is one of the largest cost reduction projects in the nation.
Chief Judge Armijo previously served as president of the New Mexico Women's Bar Association. In October 2011 she was awarded the Henrietta Pettijohn Award by the New Mexico Women's Bar Association for her work and commitment to advancing women in the legal profession. She enjoys delving into New Mexico history in her spare time.
The Endowment
In Fall 2009, the Dennis Chavez Foundation and its representatives, Gloria C. Tristani, Jorge E. Tristani, Jr., and Gloria M. Tristani (`90), established an endowment for a lectureship/symposium on Law and Civil Rights, designed to promote awareness and academic discourse of U.S. Senator Dennis Chavez and topics related to his legacy and life's work.
A gift of $100,000 created the opportunity to invite preeminent scholars to deliver an annual public lecture on Law and Civil Rights, the life work of Senator Dennis Chavez or related topics of human rights, equal opportunity, Hispanics and New Mexico in government, law and politics and their impact on human welfare.
El Senador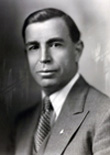 Dennis Chavez grew up the Barelas neighborhood of Albuquerque in a Spanish-speaking household in the late 1800s. It was during those early years that he developed an internal foundation that would drive him and guide him for the rest of his life.
The second oldest of eight children, Chavez left school at 13 to help support the family. During his six-day-a-week job delivering groceries for Highland Grocery Store, he witnessed disturbing inequities in class and race. His time off was spent at the public library immersing himself in U.S. history.
Before he could vote, Chavez became involved with the Democratic Party. His exceptional ability to communicate with the state's Spanish-speaking voters so impressed A.A. Jones during his 1916 U.S. senatorial campaign that Sen. Jones invited Chavez to join his Washington, D.C. staff. Determined to become a lawyer, Chavez took evening law classes at Georgetown Law School and earned his law degree in 1920, spending his days on Capitol Hill.
Chavez returned to Albuquerque to set up a law practice, but his future was in the political arena. After one term in the New Mexico Legislature, he served two terms in the U.S. House of Representatives. In 1935, he became the only Hispanic in the U.S. Senate, where he served until his death in 1962, establishing himself as an advocate of civil and human rights.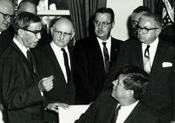 Chavez also was concerned with the development of resources in the West. He actively supported measures such as water and soil conservation programs and rural electrification. He introduced many bills to protect Indian lands, citizenship, voting rights and self determination.
Chavez conferred with every president from Hoover to Kennedy, and ultimately became one of the most powerful members of Congress, but when he returned home to New Mexico, he always delighted in the opportunity to visit with his constituents. And he never forgot his humble roots.