Nuts and Bolts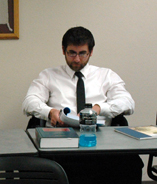 At UNM, students gain experience in the following ways:
Classroom courses, many of which integrate drafting, negotiation and other practical components.
Business and Tax Clinic, in which students represent real clients in business matters .
Independent research, on topics such as tax law, commercial law, debtor-creditor law, real estate transactions, community wealth building and financial literacy, predatory lending, retirement and pension issues, regulation of microfinance or whatever else interests a student and a faculty member.
Externships with local businesses, business law firms, Sandia National Laboratories and Los Alamos National Laboratory.