What Will I Learn?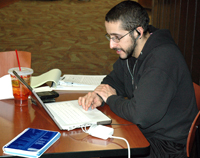 By the time a student graduates from the UNM School of Law, he or she will have had an opportunity to learn, among many other things:
How tax laws can be used to help clients, both individuals and enterprises.
How individuals and businesses can borrow or lend money in the legal framework for credit and security interests.
The reasons entrepreneurs select one form of business entity over another and the basics of structuring business entities to solve problems of risk, control, raising and distributing capital, ownership of assets, duties and performance, exit strategies.
The importance of and the strategies for protecting intellectual property.
The unique dimensions of ethics in a business law context.
In addition, the curriculum helps students gain an appreciation for how laws, lawyers and legal institutions can promote or hinder economic development, through
Credit, finance and tax law.
Wealth creation through savings and pensions.
The legal frameworks that support enterprise formation.
Intellectual property.