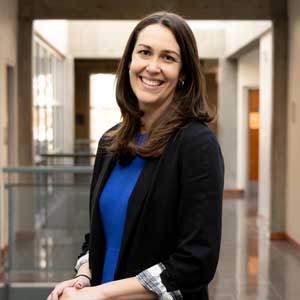 Allison Freedman
Assistant Professor of Law
Profile
Allison Freedman is an Assistant Professor of Law at the University of New Mexico School of Law, where she teaches primarily in the Economic Justice Clinic.
Her research focuses on civil rights law and the ways statutory and regulatory regimes affect, stigmatize, and subordinate underserved and indigent communities. As a clinician, her research interests stem from real-world client interactions and litigation hurdles she encounters in her practice, and she frequently advocates for alternative statutory frameworks or legal challenges to the status quo to help create a more equitable environment for disenfranchised groups. She is also the co-host of Personal Jurisdiction, a podcast featuring lawyers in a variety of career paths, their journeys to fulfilling careers, and the advice they have for getting there. 
Freedman previously taught as a Clinical Fellow in the University of Michigan Law School's Civil-Criminal Litigation Clinic and an Adjunct Professor of Advanced Trial Practice at Northwestern Law. She also served as a law clerk to the Hon. Joan H. Lefkow of the U.S. District Court for the Northern District of Illinois and litigated a wide variety of cases in federal and state court as an associate at a large law firm in Chicago. 
She received her BA in political science from the University of Pennsylvania (magna cum laude), and her JD from the Northwestern University Pritzker School of Law (cum laude). At Northwestern Law, she was a member of the Bartlit Center National Trial Team, winning two national titles, Comment Editor for the Northwestern Journal of International Human Rights, and a judicial extern to the late Charles C.W. Daniels of the New Mexico Supreme Court. Prior to law school, she received a Fulbright Fellowship, during which she taught classes in politics, debate, and Spanish at a university in Hong Kong.  
Publications
Arresting Assembly: An Argument Against Expanding Criminally Punishable Protest, 68 Vill. L. Rev. __ (forthcoming 2023).
Rethinking the PLRA: The Resiliency of Injunctive Practice and Why It's Not Enough, 32 Stan.  
L. & Pol'y Rev. 317 (2021), Available.
Note, Mental Retardation and the Death Penalty: The Need for an International Standard  
Defining Mental Retardation, 12 Nw. J. Int'l Hum. Rts. 1 (2014), Available