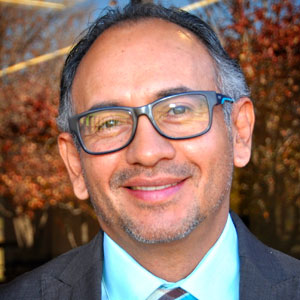 Paul Figueroa
Associate Professor of Law
Education
J.D. American University Washington College of Law
B.A. Beloit College
Profile
Professor Paul Figueroa brings extensive private and public sector practice experience to the classroom. Most recently he served as a foreign service officer and the inhouse-counsel for the U.S. Agency for the International Development in Guatemala, where he managed a diverse portfolio of legal issues related to their $150 million foreign assistance budget. Prior to that appointment, Professor Figueroa worked as an attorney adviser to various regional and technical bureaus at the USAID/Washington office. Professor Figueroa served for five years as the chair to the Fund Council Group on Intellectual Property for the Consultative Group of International Research Centers to ensure responsible management of intellectual property assets that resulted from public funding. During his ten years of government service, Professor Figueroa received several prestigious agency-wide awards related to strategic innovation in legal practice and institutional climate. In the private sector, Professor Figueroa served as manager for the Customs and Trade Compliance Group at Deloitte Consulting LLP in Chicago and as a senior associate in the Washington, DC office of New York City-based Grunfeld Desiderio, where he represented foreign corporations involved in trade disputes and won over 90% of appeals before the U.S. Court of International Trade.
An Economics and International Studies graduate of Beloit College, Professor Figueroa graduated from American University Washington College of Law (consistently ranked in the top 10 law schools nationally in international law). While in law school, he clerked for the Honorable Jennifer A. Hillman of the U.S. International Trade Commission and was a member of the American University Law Review. Professor Figueroa taught international trade law as an adjunct professor for several years in Washington, DC and is fluent in three languages.
Awards
USAID Superior Group Award for Diversity, 2018 ("for advancing Agency-wide diversity and inclusion through creation of a task force to analyze and change hiring practices")
USAID Group On-the-Spot Award, 2016 ("for the exceptional and sustained leadership, insight, perseverance, teamwork and technical expertise in achieving the signature of the first Government to Government Agreement in Guatemala")
USAID Superior Honor Award, 2014 ("for outstanding creativity and teamwork in establishing the Development Innovation Accelerator, a new tool for the Agency to co-create and co-invest in development with universities, corporations, foundations and non-governmental organizations")
USAID Meritorious Honor Award, 2013 ("in recognition of his invaluable legal advice and exemplary service relating to the execution of USAID's Multilateral Development Bank environmental responsibilities")
USAID Group Certificate of Appreciation, 2013 ("for outstanding leadership to the agency in designing and implementing new ways of promoting innovation and doing development differently")
Finalist, Funniest Fed Competition, 2012 (recognized for making fun of government employees)
Publications
If You Draw It, Students Learn It: An Approach to Teaching Contracts and Other Doctrinal Courses, 71 Journal of Legal Education 468 (2022).
Available at: UNM-DR
When Imitation Is Not Flattery: How to Stop Cultural Exploitation in Guatemala through a Sui Generis Regime, 46(4) BYU L. REV. 979 (2021).
Available at BYU Law Review.