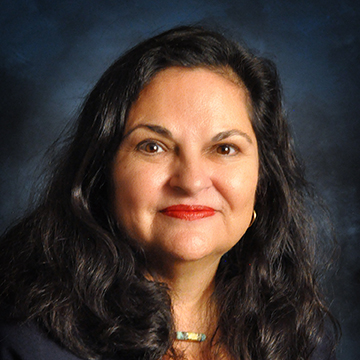 Laura Gómez
Professor of Law
Bio
Laura E. Gómez s a visiting professor at UNM and will permanently join the faculty in January 2024. Over the course of three decades in law teaching, she has taught many courses; they include Criminal Law, Civil Procedure, Constitutional Law, and Introduction to Legal Analysis in the first-year curriculum and, in the upper-year curriculum, Critical Race Theory, Constitutional Rights, Latinx People and the Law, Law and Society, and Advanced Criminal Law.
Gómez holds the Rachel F. Moran Endowed Chair in Law at UCLA. She holds courtesy appointments in UCLA's Departments of Sociology and Chicana/Chicano & Central American Studies and is an affiliate of UCLA's Latino Policy and Politics Initiative, Center for Chicano Studies Research, Center for the Study of Women, and Latin American Institute. Prior to rejoining the UCLA faculty in 2011, Gómez was a UNM professor from 2005-2011. She was the first person to hold faculty appointments at both the law school and the College of Arts & Sciences, where she was a member of the Department of American Studies. From 1994 to 2000, Gómez was an assistant professor of law at UCLA.
Gómez is a nationally recognized expert on anti-Latino racism, law and society, Latinx people and the law, critical race theory, and the sociology of race and racism; she has published widely on these topics in academic forums and the popular press and gives frequent media interviews. Her most recent book Inventing Latinos: A New Story of American Racism (published by The New Press in 2020 and as a paperback book in 2022) appeared on NPR's best books of the year list and has been called "pioneering" and "rigorous and provocative." Her 2007 book Manifest Destinies: The Making of the Mexican American Race (New York University Press)--which puts New Mexico's territorial period in the broader context of legal transition, social and political upheaval, and race relations--is widely taught in ethnic studies, American studies, history, and sociology courses (and was published in a second edition in 2018). Her other books include Misconceiving Mothers: Legislators, Prosecutors, and the Politics of Prenatal Drug Exposure (Temple University Press, 1997) and Mapping Race: Critical Research on Health Disparities (Rutgers University Press, 2013), co-edited with Dr. Nancy López.
Gómez received the 2021 Outstanding Scholar Award from the Fellows of the American Bar Foundation. Since 2022, she has served on the scholarly advisory committee of the Smithsonian's new National Museum of the American Latino. She has held residential fellowships at the School for Advanced Research in Santa Fe and the Stanford Humanities Center in Palo Alto.
Gómez has held a variety of leadership positions, including the following: President of the Law and Society Association (2009-2011); Interim Dean of UCLA's Division of Social Sciences (the university's largest academic unit); Vice Dean for Faculty Research at the UCLA School of Law; Associate Dean for Faculty Development at UNM School of Law; Co-Director (and Co-Founder) of the Institute for the Study of "Race" & Social Justice at UNM; and Faculty Director (and Co-Founder) of the Critical Race Studies Program at UCLA.
Gómez is a New Mexico native (born in Roswell, graduate of Valley High School in Albuquerque). After graduating from Harvard College in 1986, she received three degrees from Stanford: M.A., Sociology (1988); J.D. (1992); Ph.D., Sociology (1994). She was the first Mexican American woman to earn those two terminal degrees. Before becoming a law professor, she was a legislative aide to U.S. Senator Jeff Bingaman (D-NM) and a law clerk to Judge Dorothy Wright Nelson on the Ninth Circuit Court of Appeals.