Mexican Secretariat of Foreign Relations Visiting-Scholar Program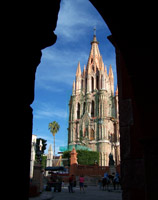 The Mexican Secretariat of Foreign Relations visiting scholar program at the University of New Mexico was established by a November 1989 agreement between the Secretaría de Relaciones Exteriores of Mexico and the school.
The year-long program was established to train career diplomats in the Mexican Foreign Service to understand and analyze legal issues that arise under U.S. law in their daily work at diplomatic posts in the U.S. Issues often involve criminal law, criminal procedure, family law and immigration.
Beginning in the fall semester, the diplomat audits law-school courses and determines a research paper topic. During the spring semester, the diplomat audits more courses and works as an intern in New Mexico District Court. The goal of the internship is to give the diplomat an in-depth understanding of a state-level criminal-justice system.
In June, the diplomat begins an internship at the Federal Public Defender's office. The goal is for the diplomat to learn how that office operates, especially as it relates to consular functions. This might include interviewing Mexican-citizen defendants to help prepare their defense.
The law school benefits from this program because the diplomats bring a distinct perspective that greatly enriches class discussions. This program also enhances the positive relationship between UNM and the Consulate of Mexico in Albuquerque, which is the highest-ranking diplomatic post in the State of New Mexico.