The Marshall-Brennan Constitutional Literacy Project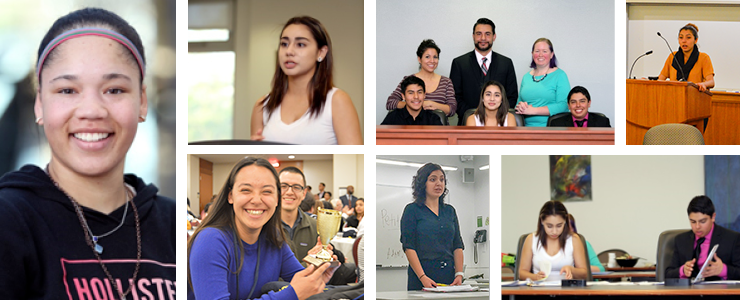 Who we are and what we do
In UNM Law School's Marshall-Brennan Program, law students teach civic education to high school students in culturally-diverse, high-poverty New Mexico public schools.
High school students develop sophisticated oral advocacy skills through the program. Winners of in-class moot court competitions compete in the UNM Marshall-Brennan Moot Court Competition each November. With expert training from Marshall-Brennan Fellows, finalists from the UNM competition compete in the National Marshall-Brennan High School Moot Court Competition each spring against high school students from around the country.
The program opens up a world of possibilities for underrepresented high school students and empowers them to become engaged, productive citizens.
And it gives UNM Law School students hands-on experience teaching constitutional law and specific applications of the law to high school students.
Since the UNM chapter was founded in 2011, dozens of law students have provided constitutional literacy training to hundreds of high school students attending school at Atrisco Heritage Academy, South Valley Academy, Valley, Highland, West Mesa, Amy Biehl, Native American Community Academy (NACA), Walatowa Charter School (in Jemez Pueblo), Mark Armijo, ACE, DATA, La Siembra, Belen, and Bernalillo.
Why It Matters
The Marshall-Brennan program works toward changing New Mexico's last-place ranking in educational outcomes for young people.
It encourages young people from communities that are underrepresented in higher education to expand their knowledge of the legal system, develop critical thinking skills, and learn about exciting career opportunities.
It challenges law students to simplify and explain course material, skills needed in the practice of law.
Finally, it helps fulfill the law school's mission of educating lawyers to serve.
For more information about the UNM Chapter
If you have questions about the UNM Chapter, please contact:
For more information about the national program